Phillies-Cardinals Wild Card Series: Dates, times, TV channels, rotation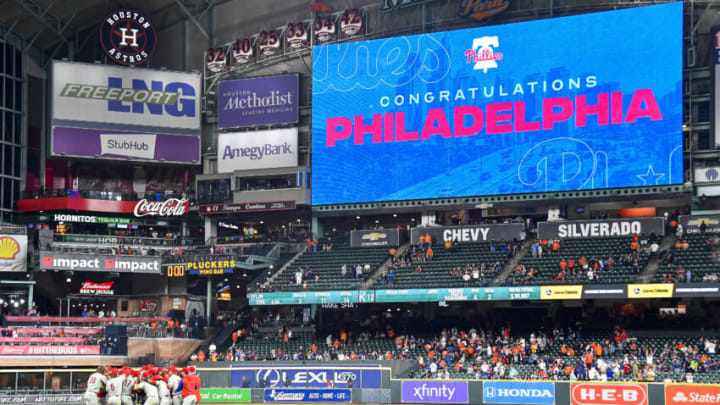 Philadelphia Phillies celebrate after clinching the Wild Card (Photo by Logan Riely/Getty Images) /
MLB announces first pitch times for Phillies-Cardinals Wild Card Series.
When you see the Philadelphia Phillies listed as among the teams on the official 2022 Wild Card Series broadcast schedule, you know it's not a dream that they have clinched their first postseason berth in more than a decade.
With all opponents and seeding finalized after Tuesday evening's games, Major League Baseball was able to release this afternoon the dates, first pitch times, and television channels for the two Wild Card series each in the American League and National League.
In their 2011 National League Division Series rematch against the St. Louis Cardinals, the Phillies schedule is as follows, with all three games to take place away at Busch Stadium:
Game 1: Friday, October 7; 2:07 p.m. (ABC)
Game 2: Saturday, October 8; 8:37 p.m. (ESPN2)
Game 3 (if necessary): Sunday, October 9; 8:37 p.m. (ESPN2)
Zack Wheeler, Aaron Nola, and Ranger Suarez are the probable Phillies starters in the respective games. While the Cardinals have not finalized the order of their rotation, among the pitchers they can choose from include right-handers Adam Wainwright, Miles Mikolas and Jack Flaherty, as well as left-handers José Quintana and Jordan Montgomery.
ESPN/ABC has tabbed New York Yankees announcer Michael Kay and 2009 World Series rival Álex Rodríguez as the television broadcast crew for the entire series. Of course, fans can always tune in to the beloved Scott Franzke and Larry Andersen on SportsRadio 94 WIP as well.
Interestingly, the Phillies-Cardinals game on Sunday (if necessary) is slotted as the final primetime game (and game overall) of the "wild card weekend." The league is likely looking to capitalize on capturing the Philadelphia market — with the Philadelphia Eagles set to oppose the Arizona Cardinals in the Grand Canyon State that day starting at 4:25 p.m.
Hopefully, by the end of the weekend, fans will see "Philadelphia 2, Cardinals 0" on the final scoreboard.