Phillies claim Bradley Zimmer from Blue Jays for temporary centerfield fix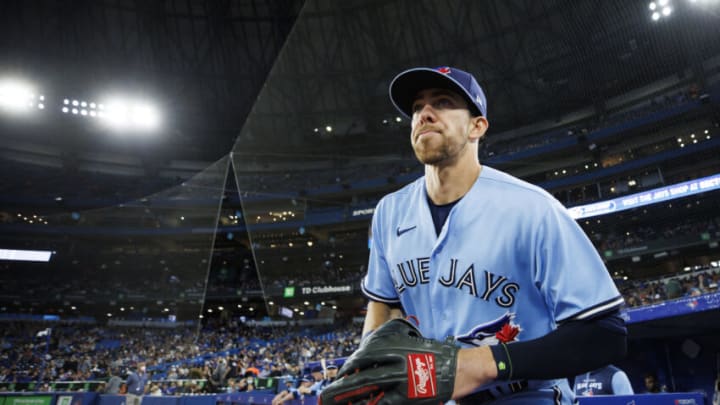 Bradley Zimmer, formerly of the Toronto Blue Jays (Photo by Cole Burston/Getty Images) /
Bradley Zimmer is the newest Phillies outfielder, replacing Brandon Marsh.
Just one day after the Philadelphia Phillies lost left-handed reliever Andrew Vasquez to the San Francisco Giants, they gained another player through the waiver wire — helping them fill a sudden centerfield void. The Phillies announced Thursday afternoon that they have claimed outfielder Bradley Zimmer from the Toronto Blue Jays.
Drafted in the first round (21st overall) by the Cleveland Indians in 2014, the Blue Jays recently designated the 29-year-old for assignment to make room for 2017 World Series MVP George Springer — activated after an injured list stint with elbow inflammation.
Through parts of six big-league seasons — five spent with the Indians before being dealt to the Blue Jays this past April — Zimmer is slashing .214/.301/.337 with 33 doubles, three triples, 21 home runs and 89 RBI spanning 340 games and 945 plate appearances.
This season as a Blue Jay, the San Francisco native collected just two singles, six extra-base hits, and three RBI across 87 plate appearances. While Zimmer's numbers point to him struggling mightily at the plate, his true value in the majors is defense and speed. Zimmer notably has fielded a perfect 257 2/3 innings in center field this season — having committed no errors through 76 chances.
To clear room for Zimmer on their 40-man roster, the Phillies transferred Bryce Harper to the 60-day injured list. The transaction does not affect the reigning National League MVP's expected timeline to return as the everyday designated hitter in late August/early September. According to NBC Sports Philadelphia's Jim Salisbury, Harper could come off the 60-day injured list as early as Thursday, August 25.
Zimmer will serve as the Phillies' temporary centerfield replacement for Brandon Marsh, who was placed on the 10-day injured list (retroactive to August 17) with a bruised knee and sprained ankle. Marsh sustained both injuries early in Tuesday's game against the Cincinnati Reds at Great American Ball Park.
Zimmer will be active for Friday's four-game series opener against the division-rival New York Mets — the last regular season set between the teams before they potentially meet in the postseason.
The Phillies were placed in a tough spot — having almost no internal options to replace Marsh. Credit goes to President of Baseball Operations Dave Dombrowski for the quick fix, whose strong centerfield defense can pay dividends.