Read Mark Appel's heartfelt message ahead of long-awaited Phillies debut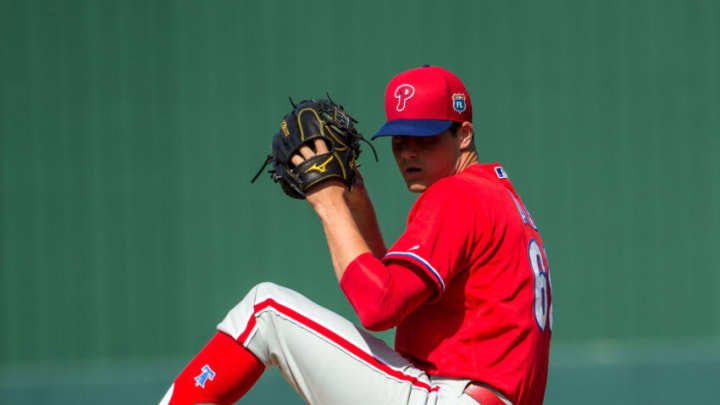 FORT MYERS, FL- MARCH 09: Mark Appel #66 of the Philadelphia Phillies pitches against the Minnesota Twins during a spring training game on March 9, 2016 at Hammond Stadium in Fort Myers, Florida. (Photo by Brace Hemmelgarn/Minnesota Twins/Getty Images) /
The Phillies have called up 2013 first-overall draft pick Mark Appel
In the history of Major League Baseball, only three first-overall picks had never made their big-league debut.
On Saturday, that number will reduce to two.
After nearly a decade of ups and downs in the minors, Mark Appel is going to the show, and for anyone who loves baseball, that makes this an emotional and wonderful day. Any day when people from all fan bases get to come together to celebrate another player fulfilling a lifelong dream is a day that reminds us how great this game truly is.
While the Philadelphia Phillies have not posted about the roster move yet, Appel himself made it official with a heartfelt tweet:
""Completely overwhelmed. I have so many thoughts I want to share but can't find the words, so I'll just say this:I'm thankful.Today, I get to play a game I love as a Major League Baseball player.LET'S GOOOOO @PHILLIES!!!!""
The first-overall pick in the 2013 draft endured a trade, injuries, and being designated for assignment, to say nothing of the general mistreatment of minor leaguers that he and thousands of others continue to endure. He stepped away from the game after the 2017 season, but returned in 2021 to mount a comeback.
As the Beatles famously sang, a long and winding road led Appel to this door. It's a door that remains shut for the overwhelming majority of minor leaguers; approximately 10% will make their debut. Appel knows how fortunate he is, on Friday, he posted one of his patented inspirational Twitter threads, saying:
"Each day might be my last.My health, my career, my life… it's all fragile.Anything good could be taken away in an instant.I could play 10 more days or 10 more years. Only God knows and ordains such things.But today, I get to feel the grass under my feet and the sun shine on my face.I get to laugh with my friends and play a game I love.Today, I've learned what I have, what I get to do, is more than enough and far more than I deserve."
That was yesterday. Today, Appel is a major leaguer.