Rhys Hoskins reveals why he thinks the Phillies are a good team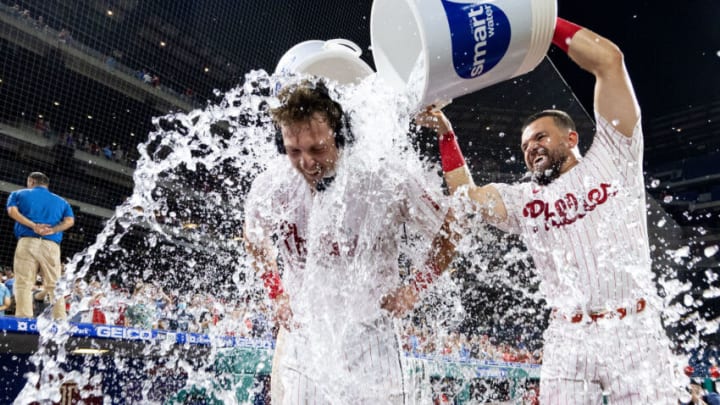 Jun 13, 2022; Philadelphia, Pennsylvania, USA; Philadelphia Phillies first baseman Rhys Hoskins (17) is doused with water by left fielder Kyle Schwarber (12) after hitting a game winning walk off double during the ninth inning against the Miami Marlins at Citizens Bank Park. Mandatory Credit: Bill Streicher-USA TODAY Sports /
Rhys Hoskins reveals why he thinks the Phillies are a good team
It's been years since anyone's thought of the Philadelphia Phillies as a good baseball club.
They've had teams with great players, but collectively, nothing good. The Golden Era of five consecutive division titles, two pennants, and a championship between 2007-11 is now over a decade in the rearview mirror, and the seasons that followed ranged from disappointing to disastrous. Until 2021, the Phillies hadn't finished a season with a winning record since that last division title, and they eked that out by finishing one game over .500.
But it's not just that the Phillies devolved into losers in the last decade; it was how they lost. For a long time now, the painfully accurate, not-so-funny joke is that they always find new ways to lose games. They'd collapse in stunning, outrageous, mind-bending fashion, playing so poorly that fans griped they should be relegated like a soccer team. Even earlier this season, we saw them in what's now considered their classic form, blowing a 7-1 lead to lose a heartbreaker to the New York Mets.
But when the calendar flipped to June and the Phillies replaced Joe Girardi with Rob Thomson, something shifted. They won nine games in a row between May 31-June 11, and have only lost three games this month. After going 10-18 in May, they're 15-3 in June, and that's without players like Jean Segura and Johan Camargo.
How are the Phillies doing it?
Over the weekend, first baseman Rhys Hoskins offered an explanation:
""We're finding ways to win games that we're probably not supposed to, and that's what good teams do.""
Simple, yet complex.
The key takeaway from this soundbite is that Hoskins acknowledges that the Phillies shouldn't be winning some of these games. And yet, they are.
Last month, I examined the Phillies in hopes of finding their common denominator of failure, but it was impossible to pinpoint one. The same thing is true about why they're suddenly looking like winners.
It's not that ownership spent more money than ever before. The Phillies have had high payrolls for years, overflowing with underperforming players. Several of this year's free-agent acquisitions aren't living up to their paychecks, either.
The farm system isn't the difference-maker, either. The Phillies improved in organizational rankings this year and have three prospects in MLB's Top 100 for the first time in over a decade, but none of that has impacted the big-league club yet.
You can chalk up their success to Garrett Stubbs' and Bryson Stott's clutch home runs, Aaron Nola pitching like a Cy Young contender, and the fact that even though the defense is pretty bad, it's not even close to the worst in the league. But on the whole, what's happening with the Phillies isn't quantifiable. It's an energy shift and good vibes. Winning is contagious, a high that you want to repeat as much as possible. Nick Pivetta recognized it when the Phillies traded him to the Boston Red Sox and became a significantly better pitcher, saying the biggest difference was playing on a team that knows how to win. His former teammates appear to be realizing that now.
The Phillies are 36-32 and only two games out of a wild card spot. They've achieved that, as Hoskins said, by finding ways to win. I'm going to stop trying to make sense of it and just enjoy the ride.