Didi Gregorius fuels trade rumors with new hype video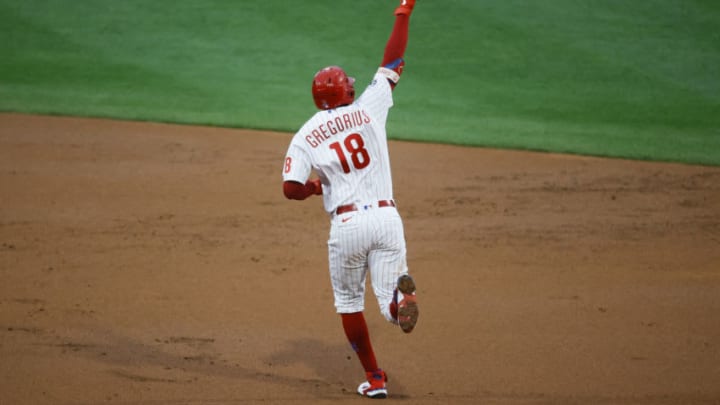 Didi Gregorius #18 of the Philadelphia Phillies (Photo by Tim Nwachukwu/Getty Images) /
Does Didi Gregorius want the Phillies to trade him back to the Yankees?
The Philadelphia Phillies can't trade Didi Gregorius during the lockout, but it certainly seems like he wants to get traded as soon as it ends.
First, there was a cryptic tweet in the fall. Then, earlier this month, he made this throwback post from his time with the New York Yankees.
Now, he's working out with Gio Urshela and Gleyber Torres, his former Yankees teammates.
Meanwhile, Gregorius' current and former Phillies teammates are working out together. Why isn't he with them?
Torreyes has been with the Yankees since his debut in 2018, and Urshela came by way of Cleveland and Toronto in 2019.
Gregorius played for the Yankees from 2015-19, hitting .269/.313/.446 with a .759 OPS, averaging a respectable 24 doubles and 19 home runs per 162 games. In 2017 and 2018, he finished 20th in AL MVP voting.
Coming to Philadelphia in 2020, Gregorius hit so well, albeit in a shortened season, that the Phillies signed him to a lucrative two-year deal through 2022. Unfortunately, he made them regret it almost immediately, hitting .209/.270/.370 with a .639 OPS over 103 games, some of the worst numbers of his career in 2021.
Gregorius could simply be working out with his old teammates, as Spring Training is officially delayed and players are left to their own devices in the meantime. If this video was an isolated incident, it would be easy to come to the conclusion that this is just a case of old friends catching up and making the best of the lockout.
However, all of Gregorius' social media activity screams "I want a trade out of Philly," and it's not hard to see why. When the 2021 season ended, Dave Dombrowski explicitly told the media that Gregorius was not guaranteed a spot with the club in 2022, despite being under contract.
So, the question is, which color pinstripes will he be wearing this year?