One of the worst trades in Phillies history (December 11, 1917)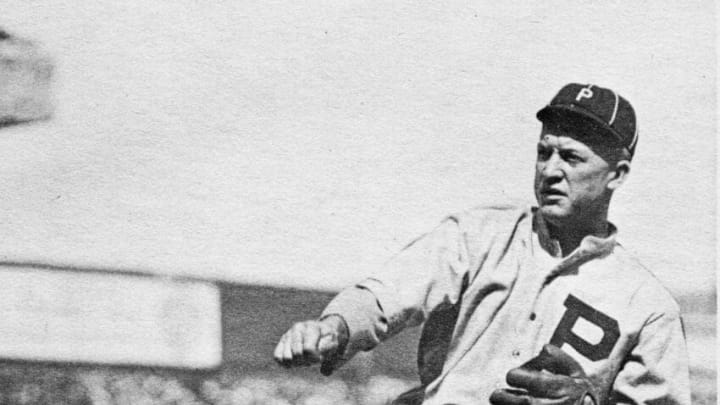 PHILADELPHIA, 1916. Grover Cleveland Alexander of the Philadelphia Phillies warms up before a game in the 1916 in Philadelphia, Pennsylvania. (Photo by Mark Rucker/Transcendental Graphics/Getty Images) /
During MLB's ongoing lockout, we'll be looking back on the history of the Philadelphia Phillies, revisiting the good, the bad, and the ugly moments of one of baseball's oldest franchises. 
In the long history of the Philadelphia Phillies, there have been many bad trades, which is why it's almost impressive that nearly a century and a half into the franchise's existence, the one that took place on December 11, 1917, remains one of the worst in Phillies history.
On this day in 1917, the Phillies sent Grover Cleveland Alexander, also known as "Old Pete," to the Chicago Cubs along with his favorite catcher, Bill Killefer. In exchange, they received Mike Prendergrast, Pickles Dillhoefer, and $60,000.
The player, who was born during President Grover Cleveland's first term and named for him, was the original Fergie Jenkins: a promising young pitcher who would end up spending more time with the Cubs than the Phillies.
Alexander burst onto the scene with the Phillies in 1911 and led MLB with 28 wins and seven shutouts in his rookie season. He led the National League with 31 complete games, 367 innings pitched, and 1,440 batters faced.
As a rookie in the Dead Ball Era, Alexander shined, pitching in a whopping 48 games in his first big-league season, including starting 37 and closing 11. He finished third in MVP voting, something he would never come close to again in his career, despite the impressive performances that were still to come.
Between 1911-17, Alexander dazzled as a marquee player on the Phillies. He compiled a 2.21 ERA over 329 games, including 219 complete games and 61 shutouts. He averaged 356 innings per year and led the NL or MLB in innings pitched in all but one season, always throwing over 300 innings.
When the Phillies traded Alexander to the Cubs, their owner William Baker claimed that he was worried about losing their star pitcher to the World War I draft, but he later admitted that he needed money. Less than two years later, the Red Sox would complete a much more famous move for a similar reason, selling Babe Ruth to the Yankees.
Money aside, Baker's other reasons for the trade were justified almost immediately, as Alexander only pitched in three games for the Cubs in 1918 before being drafted.
However, Alexander returned from the war in 1919 and continued his career for 13 more seasons. Between 1919-29, he pitched for the Cubs and then the Cardinals, compiling a 2.92 ERA over 355 games, including 317 starts, 32 games finished, 214 complete games, 29 shutouts, and 17 saves. He pitched 2,650 1/3 innings.
In 1930, Alexander returned to the Phillies, but he wasn't the young pitcher who'd dazzled for them over a decade before. He pitched poorly in nine games for his first team, before leaving the majors behind.
In the annals of MLB history, Alexander and Christy Mathewson are tied for third-most wins, with 373 apiece. Alexander is fifth overall in pitcher WAR (116), 13th in complete games (436), and second in shutouts (90). His 5,190 career innings is tenth-most in MLB history, and he's one of only 13 pitchers in the 5,000+ inning club.
Alexander would be inducted into the Baseball Hall of Fame as the sole member of its third class in 1938. Despite spending more of his career with the Cubs, the Phillies are listed as his primary team in Cooperstown.
Two years after he died, future president Ronald Reagan portrayed the pitcher named for a former president in the movie The Winning Team.
Like many trades in their franchise history, this one followed the Phillies around in a bad way for a long time. While Alexander won his second pitching Triple Crown with the Cubs in 1920 (he won with the Phillies in 1915), the Phillies wouldn't have another pitcher Triple Crown until Steve Carlton in 1972.