This Phillies player might be the most underrated guy in MLB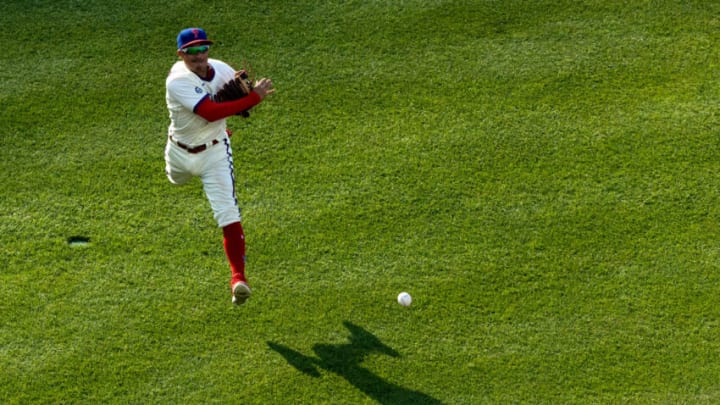 Jul 16, 2021; Philadelphia, Pennsylvania, USA; Philadelphia Phillies second baseman Ronald Torreyes (74) throws to first for an out against the Miami Marlins during the sixth inning at Citizens Bank Park. Mandatory Credit: Bill Streicher-USA TODAY Sports /
Ronald Torreyes has been the most underrated player on the Phillies in 2021
When you think of the Philadelphia Phillies, you probably don't think of Ronald Torreyes right away.
Bryce Harper, J.T. Realmuto, Rhys Hoskins, Andrew McCutchen, probably. Vince Velasquez or one of the many mediocre bullpen guys if you're angry. But Torreyes, or 'Toe,' as he's affectionately known, probably doesn't spring to mind first.
And yet despite not being one of the big-name superstars on the Phils, Torreyes has been crucial to his team's success, and they depend on him immensely.
He's also impressed former Phillie-turned-broadcaster Kevin Frandsen and former Phillie-turned-GM-turned-broadcaster Ruben Amaro Jr., who calls him RoTo:
On Saturday, as Matt Moore was in the midst of a no-hit start, the Phillies were leading 1-0 due to Torreyes' solo shot in the bottom of the third, his sixth of the season. He went 3-for-4, and the Phillies won 6-1.
The 28-year-old Torreyes has transformed himself from a non-roster invitee on a minor-league deal, to an everyday player; the Phillies have had 14 games so far this month, and he has played in all of them. Over that span, he has two home runs, seven RBI, and five runs scored in 42 plate appearances.
Torreyes is slashing .273/.320/.397 with a .717 OPS, eight doubles, six home runs, 31 RBI, and two stolen bases in 71 games.
Here's how those numbers rank in his seven-year career:
AVG: Best since 2018, fourth-best overall
OBP: Best since 2017, second-best overall
SLG: Best since 2015, second-best overall
OPS: Best since 2015, second-best overall
Doubles: Best since 2017, second-best overall
Home runs: New career-high! (Previous was three in 2017)
RBI: Best since 2017, second-best overall
Phillies fans and media members have also been singing Torreyes' praises all season:
Defensively, Torreyes has been an upgrade from their should-be everyday third baseman, Alec Bohm, who, in addition to missing time due to COVID-19, has been experiencing quite a sophomore slump. Bohm has a -4 OAA (Outs Above Average), while Torreyes' has a +2 OAA. Bohm also leads NL third basemen with 15 errors; only four players in the entire NL have committed more errors.
Over the weekend, Phillies manager Joe Girardi kept Bohm on the bench for five consecutive games, saying the former first-round pick needed a "reset." Torreyes played third base in his stead.
Earlier in the season, Toe's manager – one of the people who calls him 'Toe' – was singing his praises after he came through for them on the west coast trip:
""He does so many things right. People say, 'Why do you love Torreyes?' He's a ballplayer. That's what he is. He really understands the game and I trust him wherever I put him. I don't ever have to worry about him being prepared. That's a luxury for a manager. I don't know where we'd be without him."Joe Girardi"
Girardi, of course, managed Torreyes during his rookie season in 2016 and in 2017, when he put up some of his best offensive numbers.
In an era of baseball in which it feels like everyone is swinging for the fences and strikeouts abound, Toe is proof that you don't have to be a power-hitter to make an impact on your team.