Phillies Reliever Brandon Kintzler Speaks Out About the Sticky Stuff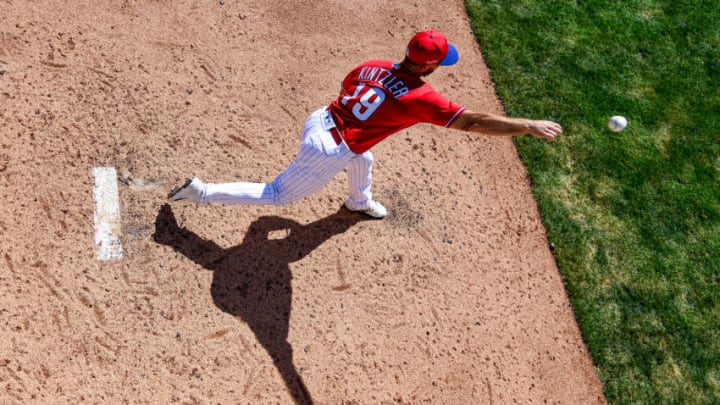 Brandon Kintzler #19 of the Philadelphia Phillies (Photo by Mark Brown/Getty Images) /
The substance ban has been the hot topic of the MLB season, and the Phillies are right in the stick of it (see what I did there?).
Joe Girardi was ejected during the Phillies-Nationals game on the first day of umpire inspections. Many players around the league have spoken out about MLB's new rules, as well as numerous former players, including former Phillie Pedro Martinez and four-time World Series champion Jeff Nelson.
Now, Phillies reliever Brandon Kintzler is making his opinion known on the topic, telling Matt Breen of The Philadelphia Inquirer he is all for the change:
Kintzler, who has been rehabbing with the Phillies Triple-A affiliate Lehigh Valley IronPigs, has struggled at the big-league level this season. Over 20 appearances for the Phillies, he has an 8.50 ERA with only 14 strikeouts over 18 innings of work.
Suffice to say, this is not what the Phillies thought they'd get from Kintzler, whose ERA was under 2.68 in each of the last two seasons. He posted a 2.22 ERA for the Marlins over 24 games in 2020, so Dave Dombrowski signing him to a minor-league deal during the offseason seemed like an absolute steal for the Phillies.
Phillies reliever Kintzler says he's never used any foreign substance to help him pitch.
Kintzler's stance on the sticky stuff is absolutely fair, as the whole point of this ban is to level the playing field for everyone. Though given his struggles this season, there's also a part of him that is happy to see other pitchers around the league regressing towards his own mean. He says he has never used any kind of foreign substance in his entire baseball career:
""I've never used it in my life, so the cream rises to the top now." – Kintzler"
At 36 years old, Kintzler is in his 12th MLB season now. Excluding the current season, he has a career 3.31 ERA and has been extremely valuable to his former teams in the past, including the Brewers in the early 2010s and his All-Star season in 2017.
As he rehabs from a severe neck strain that he says affected the way he pitched – likely contributing to his inefficacy – Kintzler wants to return to the big-league level and contribute. The Phillies certainly need someone to swoop in and pick up where the rotation leaves off.
""I could help. A healthy me would be really nice to help these guys. I think my experience would definitely take the load off of them. Just be myself. I don't need to be a hero. Just be a healthy Kintzler…" – Kintzler"