Phillies Off-Day Before Mets Series Just Doesn't Make Sense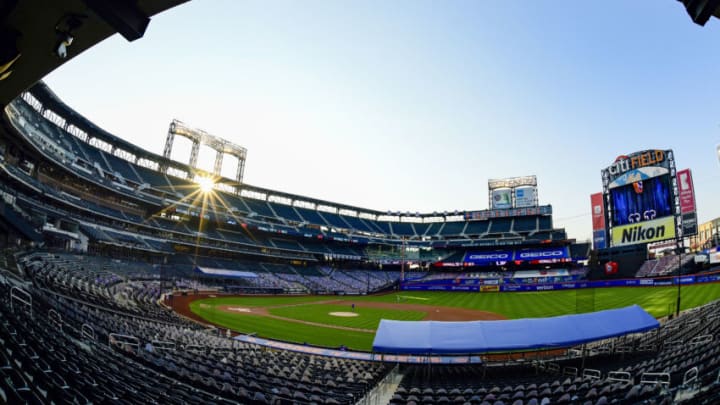 A general view of Citi Field (Photo by Steven Ryan/Getty Images) /
The Phillies and Mets should be playing on Thursday.
Thursday marks the sixth time this month that the Philadelphia Phillies will not play a baseball game.
Instead, they will look ahead to their four-game road series opposite the National League East-leading New York Mets at Citi Field. Half of the series will be played on Friday via a doubleheader, with Game 2 being a makeup of the April 15th postponement.
With both teams off on Thursday, you have to wonder why they did not decide to play then and avoid the seven-inning doubleheader the following day.
The Phillies were 5-11 in doubleheader games last season, with two of the losses being in walk-off fashion. They have already played a road doubleheader against the Mets this season and lost both games 4-3 and 4-0 — even with Aaron Nola starting in the latter contest. Simply put, statistically, the Phillies are more likely to lose both doubleheader games than if they were normal, nine-inning games.
The Mets, meanwhile, have already competed in 12 doubleheader games this season and have posted an impressive 8-4 record. They hosted a doubleheader against the Braves on Monday, and went to DC for two against the Washington Nationals last Saturday. In both, the Mets won the first game, but fell in the latter contest.
The Luis Rojas-led team — that has played 15 games in its last 13 days — will enjoy Thursday's off-day before taking on the Phillies. They have already announced that RHP Taijuan Walker (6-3, 2.42 ERA) and LHP David Peterson (2-5, 5.31 ERA) will start in the doubleheader. Joe Girardi has yet to tab probable starters for the Phillies, and is currently pondering the future of the closer role, as well.
Tied for third place in the National League East and five games behind the first-place Mets, the Phillies taking three of four in this series would be crucial for them to stay afloat.