The Phillie Phanatic Will Get Vaccinated Next Week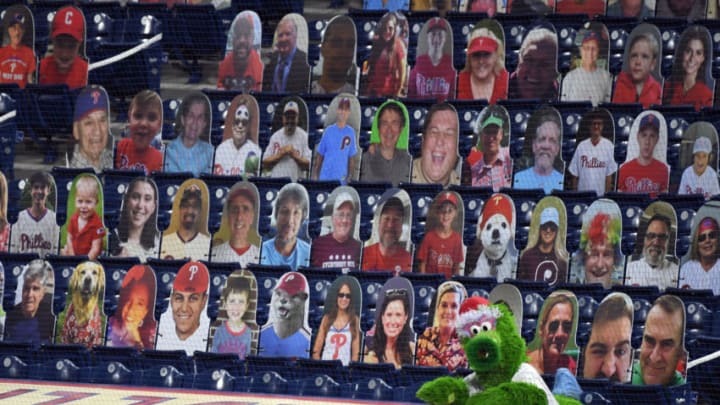 Aug 14, 2020; Philadelphia, Pennsylvania, USA; The Philly Phanatic looks on in the seventh inning against the New York Mets at Citizens Bank Park. Mandatory Credit: James Lang-USA TODAY Sports /
The Philadelphia Phillies and other teams around Major League Baseball have been encouraging players and fans to get a COVID-19 vaccine. On June 4, it was announced that two-thirds of MLB teams have reached the 85% threshold.
MLB and its thirty clubs are even incentivizing fans to get vaccinated at the ballpark, offering free tickets and other prizes, in a June initiative called Vaccinate At The Plate. Each team is partnerering with a local healthcare provider to host a vaccine event and giveaway of their choosing, including free vaccinations, free game tickets, and other rewards.
Earlier this month, the Phillies partnered with Penn Medicine to provide free Johnson & Johnson vaccines at Citizens Bank Park. Fans 18+ who attended the June 8-10 series against the Braves could get the single-dose shot and also receive two free tickets to a select Phillies game, credit for ballpark concessions, and be entered in a giveaway. Not a bad deal!
On Thursday, it was announced that on June 21, the Phillie Phanatic will also be getting the vaccine. The beloved mascot will get a shot at the Elmwood Park Zoo, as Montgomery County attempts to get as many residents inoculated as possible. The clinic will be open from 9:30 AM – 4 PM, and both the Pfizer and Johnson & Johnson vaccines will be available.
As with the ballpark vaccinations, anyone who gets vaccinated at the zoo clinic will be entered into a raffle to win prizes, and will also receive free admission for the day or a pass for free admission in the future.
Registration is now open on the zoo website!