Didi Gregorius has monster career stats with bases loaded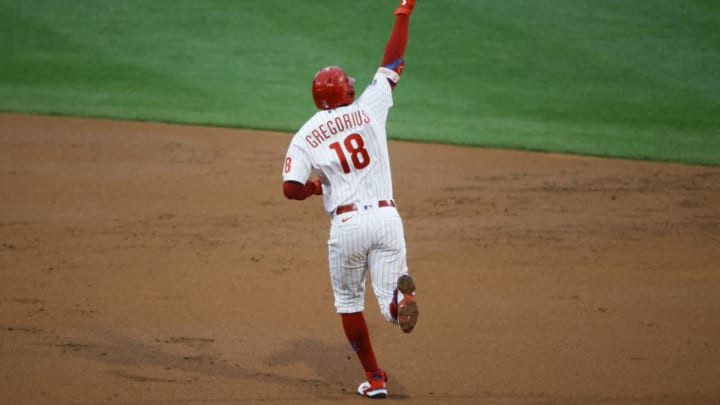 Didi Gregorius #18 of the Philadelphia Phillies (Photo by Tim Nwachukwu/Getty Images) /
When the Philadelphia Phillies load the bases, the team should want no player at the plate other than star shortstop Didi Gregorius.
The 10-year veteran saw his 109th career such plate appearance in the first inning of Wednesday's game against the Milwaukee Brewers at Citizens Bank Park. He made opposing pitcher Freddy Peralta pay — slugging a 78 miles per hour thrown slider over the right field bleachers, giving the Phillies an early 5-0 lead.
Didi Gregorius slugs his third career grand slam in a Phillies uniform.
In his career with he bases loaded, Gregorius now has 33 hits (including eight doubles, one triple, and eight home runs), 100 RBI, three walks, and just 19 strikeouts. All eight of his grand slams have come in the last five seasons, since 2017 — the most in Major League Baseball over that stretch.
According to the Philadelphia Inquirer's Scott Lauber, only the following active players have more career grand slams than Gregorius: Albert Pujols (15), Manny Machado (11), Robinson Cano (11, suspended), and Nelson Cruz (10).
Among all National League players last season, Gregorius finished tied for first in grand slams, with two — coming on August 10 and September against the Atlanta Braves and Miami Marlins, respectively. By doing so, he became the first Phillies shortstop in franchise history with multiple grand slams in a single season.
Wednesday's blast marked Gregorius' third grand slam in red pinstripes — tying him with the following players who previously slugged as many in their respective Phillies careers: Aaron Altherr, Lave Cross, Don Demeter, Pedro Feliz, Gene Freese, Granny Hamner, George Harper, Fred Luderus, Garry Maddox, Sam Thompson, and Jayson Werth.
---
Phillies all-time grand slams leaders
15: Ryan Howard
7: Mike Schmidt
6: Bobby Abreu, Willie Jones, Chuck Klein, Cy Williams
5: Dick Allen, Pat Burrell, Darren Daulton, Del Ennis, Greg Luzinski, Andy Seminick, and Chase Utley
4: Vince DiMaggio, Maikel Franco, Mike Lieberthal, Jimmy Rollins, and Russ Wrightstone
---
Gregorius is clearly clutch with the bases loaded. He has a ways to go to reach franchise greats Mike Schmidt and Ryan Howard on the all-time franchise grand slams list — but slugging one or two more this season is not out of the question, given it is still early May.