Phillies, Mets fans react to Bin Laden death, 10 years ago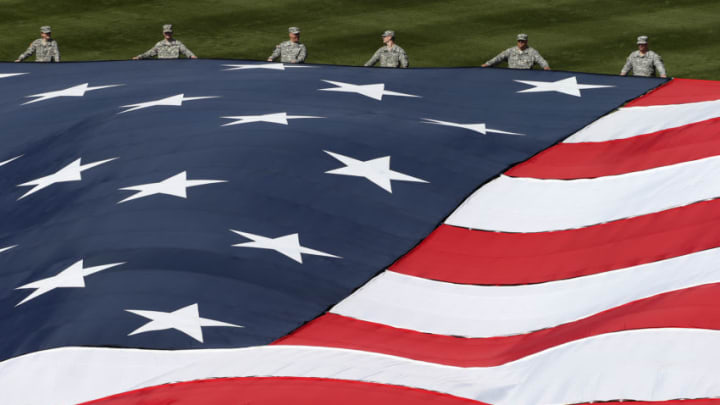 Servicemen hold a giant American flag at a Philadelphia Phillies game (Photo by Rich Schultz/Getty Images) /
Philadelphia Phillies and New York Mets fans rarely can find common ground between one another. Yet, on this day 10 years ago (May 1, 2011) — in the ninth inning of a tied nationally televised National League East division battle — they did just that.
Phillies and Mets fans came together one decade ago in support of the U.S.
All around Citizens Bank Park, just after midnight, the crowd chanted "USA! USA!" after learning about reports that Osama Bin Laden was killed and President Barack Obama would soon address the nation to provide an update on the breaking news situation.
"It was fantastic. It just goes to show you how people and the fans here in Philadelphia see things," then-manager Charlie Manuel told ESPN. "It also goes to show you that life is bigger than baseball and the game in some ways."
Remember, this was during the early days of social media and smart phones. Technology simply was not as advanced as it was today. So, for such important national news to spread as fast as it did among the more than 45,000 in attendance, that was a remarkable feat.
The Phillies wound up losing the game, 2-1, after Kyle Kendrick surrendered a two-out RBI double in the top of the 14th inning. The Phillies may have fell to an 18-9 record after the loss, but would go on to win a franchise record 102 games that season.
As a WFAN announcer put it during the "USA" chants, a closely contested baseball game was far from the most important thing that happened that night for the nation.
"It's amazing when things seem so important for the moment — like they did when Ryan Howard batted with the bases loaded," a WFAN announcer said. "If it's true that Osama Bin Laden has been captured, killed, or whatever, it just takes you back to that awful, awful day [on September 11]. You wonder why you get so upset or worked up over a baseball game in the first place."
The night began with a baseball game started by perennial Cy Young Award contender Cliff Lee, and ended with a unique moment that is still remembered to this day among not just Phillies and Mets fans, but the entire country.
Coincidentally, the Phillies and Mets are playing a series opposite each other again in South Philadelphia, exactly one decade later.