Phillies red pinstripes, Vin Scully debut 71 years ago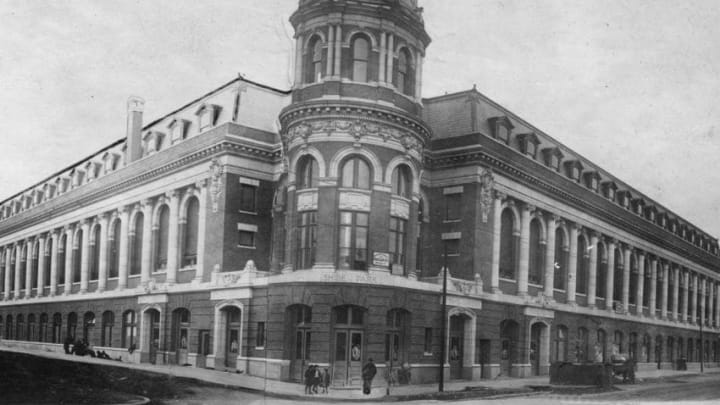 The brand new Shibe Park is shown in a photo from April 12, 1909. (Photo by Mark Rucker/Transcendental Graphics, Getty Images) /
The year 1950 introduced some notable happenings in Phillies and MLB history.
Sunday did not mark only the Phillie Phanatic's birthday and a dominant performance from Philadelphia Phillies ace Aaron Nola for his first career nine-inning complete game shutout — but also the anniversary of two notable events.
On April 18, 1950, longtime Dodgers broadcaster, the legendary Vin Scully, called his first game in his 67-year career. It just so happened to be against the Phillies at Shibe Park.
The Phils won the season opener, 9-1, over the Brooklyn Dodgers with future Hall of Famers Robin Roberts getting the winning decision over Don Newcombe. Along with the convincing win and Scully's debut, then-Phillies skipper Eddie Sawyer and the Phillies also wore for the first time their new home uniform — red pinstripes.
For a look back at the box score for this game, you can see that here. I don't know about you, but I love seeing box scores from past games. Here is Scully acknowledging this day and how he never considered his career "work."
This reminds me of the following quote by Marc Anthony: "If you do what you love, you'll never work a day in your life."
I believe, in this case, that's proven to be true for Mr. Scully.
While writing this, I took a look at quite a few different uniforms of the past and it's pretty amazing to see how the styles have changed over the years. I've seen many old jerseys in different museums and seeing the progression is something this baseball fan finds really interesting.
There's some great history of all the changes made to uniforms in Phils history here.
What a cool day in baseball history and Phillies history, specifically. An Opening Day win, while a young Scully calls his first Dodgers game … and the debut of the Phils red pinstripes!