Same old Vince Velasquez costs Phillies first 2021 loss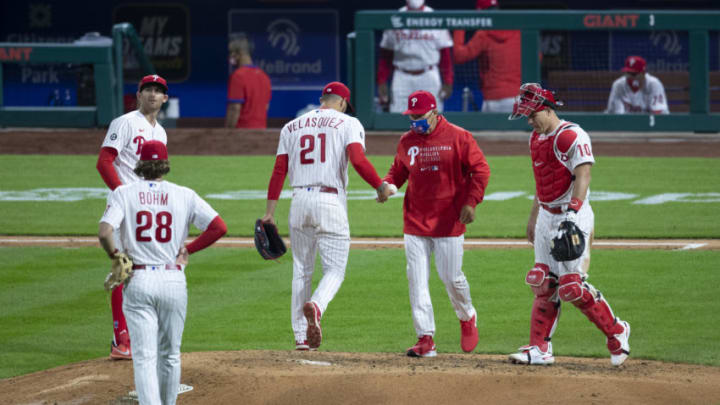 Vince Velasquez #21 of the Philadelphia Phillies (Photo by Mitchell Leff/Getty Images) /
Back on December 2, the Philadelphia Phillies tendered a contract to Vince Velasquez — keeping him in red pinstripes for another season. To fans, this was what seemed like the 100th chance the right-hander has received following disappointment after disappointment.
Now, this was when Ned Rice was interim GM and it was unclear what direction the organization was headed — amid layoffs, Zack Wheeler trade rumors, and more.
Fast-forward to Tuesday evening, Velasquez made the wrong kind of history — in maybe the most "Vince Velasquez way" possible — for the still-undefeated Phillies. He became the first-ever pitcher to have a stat line of zero hits, four walks, and four earned runs allowed, while striking out four batters, spanning 1 1/3 innings of work.
The 'Vince Velasquez experiment' is on its last legs with the Phillies.
It is no secret that the Phillies have always felt Velasquez has great potential and that has been why they keep giving him chances. Perhaps his first home start, striking out 16 San Diego Padres, has been giving the organization hope he could one day put up those numbers consistently.
Sometimes you wonder who can blame them. In this same outing, Velasquez began by striking out the side on 14 pitches. He then collapsed the following inning. Velasquez can have unhittable stuff and last night you can't say he didn't prove it, but control has been his main issue for awhile. Last night, you can't say he didn't prove that as well.
Last season, Velasquez showed how much potential he has as a strikeout machine, and also how he walks too many guys. He struck out a career-high 12.18 batters per 9 innings, but also walked a career-high 4.50 batters per 9 innings. He ended 2020 with a 5.56 ERA across 34 frames.
So far in 2021, it is clear what Velasquez's role is — a middle-relief, multiple-inning arm who will probably pitch when they are winning or losing by a lot. He isn't supposed to have any pressure on him and probably won't be in the game when it's close. They have had different chances to go to Velasquez, but instead went to more proven or likeable arms — such as Sam Coonrod and Brandon Kintzler.
Despite his downside, at least Velasquez is honest and shows he cares a lot. He wants to be a better pitcher and continues to push himself to do so. You could see it in what he said last night:
It might be time to face reality that Velasquez will never reach his potential, at least not with the Phillies. Unless he can find a way to prove he can be a solid bullpen arm, his time with the team is likely on its last legs. It seems like a parting ways would be best for both sides, when that happens.