Phillies do due diligence by attending Jake Arrieta showcase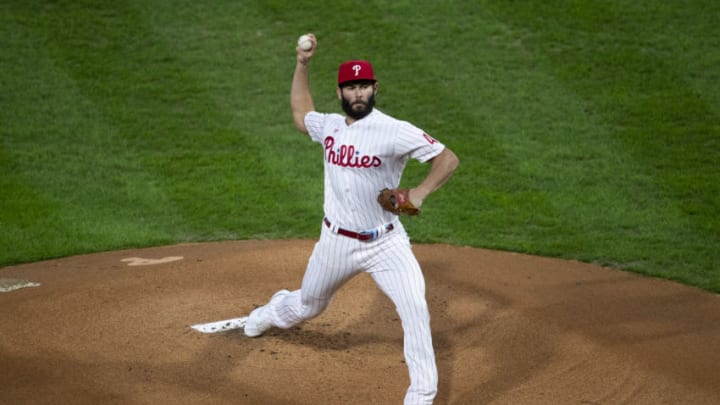 Jake Arrieta #49 of the Philadelphia Phillies (Photo by Mitchell Leff/Getty Images) /
While donning Philadelphia Phillies red pinstripes across the 2018-20 seasons, right-handed starting pitcher Jake Arrieta was far from the World Series champion and Cy Young Award-caliber pitcher from his Chicago Cubs days.
As a Cub, Arrieta posted a .687 winning percentage, 2.73 ERA, and 1.034 WHIP ratio across 128 starts. With the Phillies, he recorded a .489 winning percentage, 4.36 ERA, and 1.387 WHIP through 64 starts.
Despite more letdown performances than not across his three-year, $75 million contract, the Phillies still did their due diligence by attending the free-agent's Friday showcase in Texas. However, don't take their presence as a guarantee the club will re-sign the 11-year veteran. As NBC Sports Philadelphia's Jim Salisbury writes, the Phillies took a look, but them doing so is not "unusual" — they send a scout to "just about every free-agent showcase."
The Phillies may have already found their Jake Arrieta replacement in the  starting rotation.
The Phillies may have already found their answer in recent days as to who will compete with Vince Velasquez for the final spot in the rotation. Along with signing right-hander Ivan Nova to a minor-league deal with a spring invite, the Phillies inked veteran southpaw Matt Moore on a Friday to a one-year big-league pact. Fellow lefty Ranger Suarez is also a candidate who will be looked at in the upcoming spring training; he is among just six lefties the Phils have started since the 2016 season.
FanSided's Robert Murray notes that while Arrieta's best days are in the past, he should be able to land a deal that will at least allow him to compete for a spot in a starting rotation. The 35-year-old has already drawn some interest from the Cubs for a reunion, as well as the National League East division-rival New York Mets.
More teams will surely emerge in the coming days to having interest in Arrieta. And while the Phils are expected to explore adding more pitching depth — even after the Moore signing — don't expect them to be among the suitors for Arrieta.