Phillies rumors: Alex Colomé, Didi Gregorius, J.T. Realmuto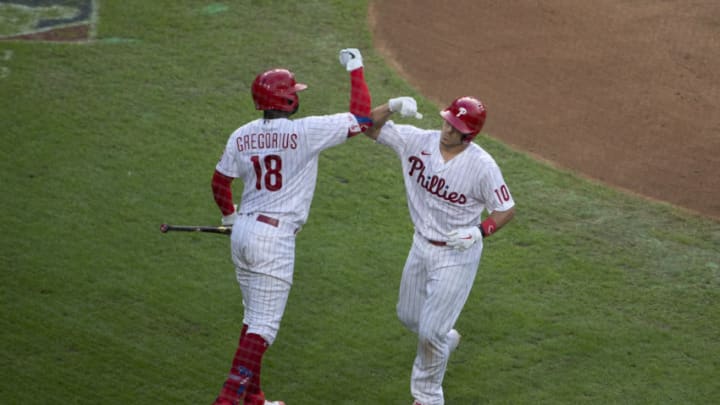 J.T. Realmuto #10 and Didi Gregorius #18 (Photo by Mitchell Leff/Getty Images) /
The Phillies may be targeting star closer Alex Colomé to upgrade their bullpen.
The Philadelphia Phillies have made some under-the-radar moves this offseason to address their bullpen, such as acquiring lefty Jose Alvarado and right-hander Sam Coonrod. Law of averages says the team is bound to make at least one move for a more well-known arm — in an effort to improve a bullpen that nearly had the all-time worst combined ERA in a single season.
That name could very well end up being longtime Chicago White Sox closer and now-free-agent, RHP Alex Colomé, as the club likely moves on from him after signing another star free-agent closer, Liam Hendriks.
"Now that Liam Hendriks has signed with the White Sox, Alex Colomé will be pitching elsewhere in 2021," MLB.com's Mark Feinsand reported on Tuesday. "The Padres, Phillies, Red Sox and Twins appear to be among those in the mix for Colomé, who had two outstanding seasons in Chicago."
The Phillies have been linked to Colomé before, including near the July 2019 trade deadline. Through eight seasons in the majors, the 32-year-old has logged 138 saves, blowing only 23 for an 85.7 percent success rate. Spanning 21 games and 22 1/3 innings this past season with the White Sox, the right-hander impressed, going 2-0 with a 0.81 ERA, 0.940 WHIP.
There's still a chance that both J.T. Realmuto, Didi Gregorius re-sign with Phillies.
Time is ticking, with just weeks until spring training is currently scheduled to kick off in Clearwater, Florida. As of now, both catcher J.T. Realmuto and shortstop Didi Gregorius remain free agents.
The Phillies still have a glaring need at both positions, so could the stars align where both continue to don red pinstripes in 2021? NBC Sports Philadelphia's Jim Salisbury, who reports the Phillies "continue to be engaged" with both, thinks so.
"It might be a while before Realmuto and Gregorius find homes. But how things change," Salisbury said. "Early in the offseason, there was pessimism that the Phils would sign either of these guys. Now, we wonder if there's a way they could end with both."
Phillies president of baseball operations Dave Dombrowski told Salisbury that the Phillies are interested in re-signing both players. The Phillies executive even met with Realmuto over lunch in Oklahoma, his offseason home, a couple of days before Christmas.
Salisbury added that the free-agent market for "quality" free agents has not developed the way they hoped. With the Mets signing James McCann, and Gregorius still among a shortstop free-agent pool that also has Andrelton Simmons and Marcus Semien, things are only trending in the favor of Dombrowski and general manager Sam Fuld.