Phillies do not issue qualifying offer to Didi Gregorius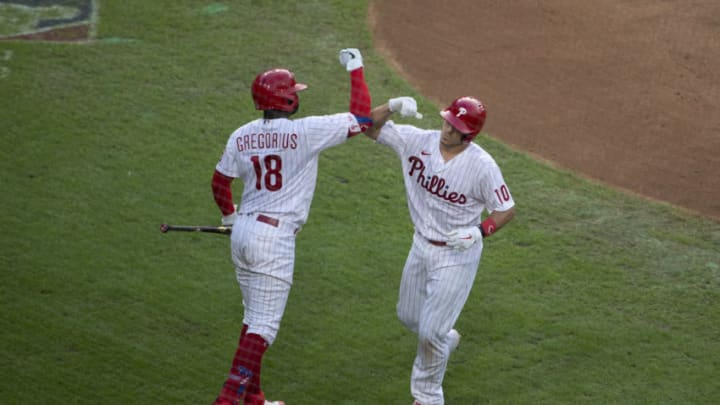 J.T. Realmuto #10 and Didi Gregorius #18 (Photo by Mitchell Leff/Getty Images) /
The Phillies did not issue a qualifying offer to Didi Gregorius on Sunday, only J.T. Realmuto
The Philadelphia Phillies made a surprising move on Sunday as it relates to free-agent shortstop Didi Gregorius. While the Phillies issued a one-year, $18.9 million qualifying offer to catcher J.T. Realmuto, they did not do the same for Gregorius, according to NBC Sports Philadelphia's Jim Salisbury.
Therefore, Gregorius immediately enters free agency, while Realmuto has 10 days to either accept or reject the offer. If he accepts, he will be signed with the Phillies through the 2021 season; if he rejects and signs with another team, however, the Phillies would receive a draft pick compensation.
Only six different players, including Realmuto, received the offer ahead of Sunday's 5 p.m. deadline, MLB.com's Mark Feinsand reports. They include Trevor Bauer of the Cincinnati Reds, Kevin Gausman of the San Francisco Giants, DJ LeMahieu of the New York Yankees, George Springer of the Houston Astros, and Marcus Stroman of the New York Mets.
The Phils likely did not offer Gregorius a qualifying offer for one of two reasons; the first, they believe Gregorius would not demand the nearly $19 million in free agency and therefore they could sign him on a cheaper deal.  Or, the second, the Phillies never intended to re-sign Gregorius to begin and will stick with the combination of Jean Segura, Scott Kingery, Alec Bohm, and Rhys Hoskins as everyday starters entering the 2021 season.
As for Realmuto, he likely will reject the offer as he seeks a record contract this offseason for catchers. There is speculation that he could sign with the division-rival Mets, under new ownership seemingly willing to spend to return to postseason contention. Realmuto joining the Mets would be the worst-case scenario for Phils fans in an offseason that already appears to be heading in a less-than-ideal direction.