Giving out Phillies team 2020 season Gold Glove Awards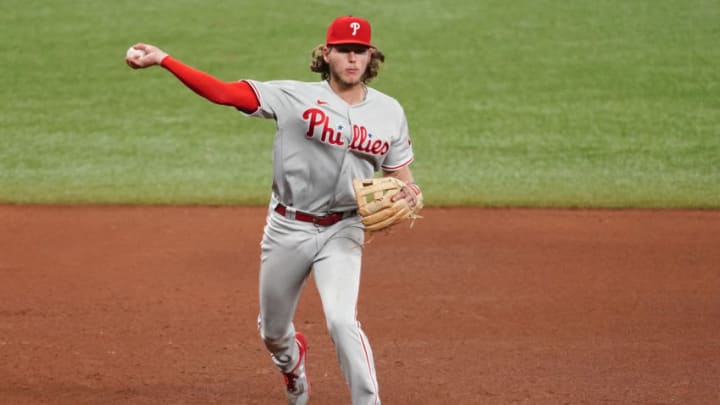 Alec Bohm #28 of the Philadelphia Phillies (Photo by Douglas P. DeFelice/Getty Images) /
Recognizing the 2020 Phillies defense with team 'Gold Glove Awards'
Exciting, non-Philadelphia Phillies news was announced on Thursday, a rare off day in the 2020 postseason — Rawlings announced the finalists for the 2020 Gold Glove Awards at each position in the American and National leagues.
While no Phillies players were named, that does not mean we can't recognize their 2020 defense. I've decided to create a  list of the 2020 Phillies Gold Glove winners; meaning, a Gold Glove for the best defensive player on the team at every position:
First Base
While J.T. Realmuto, Alec Bohm, Jay Bruce, and more handled first base duties for the Phillies this season, none of them did it with the superb frequency and regularity that Rhys Hoskins did. As the only eligible first baseman, Hoskins runs away with this award.
Catcher
I'll start with the bad news. Realmuto wasn't nominated for an actual Gold Glove, despite winning one last year following his first season in red pinstripes. Apparently, he wasn't nominated because there were "other, more talented players." Ridiculous! Luckily, there weren't "other, more talented players" on the Phillies (sorry, Andrew Knapp); so, J.T. easily wins this Gold Glove.
Second Base
Okay, fine. Jean Segura.
Shortstop
While the Phillies had many players on the roster capable of playing shortstop, only one played the position with award-meriting often-ness, and that man is Didi Gregorius. The Phillies Shortstop Gold Glove Award goes to Didi!
Third Base 
Everyone says Alec Bohm isn't capable of playing third base long-term. However, Bohm defied the naysayers and he played almost all of his games at third, even though he's not very good at it! That's award-worthy in my books.
Pitcher
This is where it gets interesting. Sorry that it wasn't interesting before. This is literally the only category with any competition, as the Phils had three players who qualified. Unfortunately, I don't know anything about pitcher defense, so this category is anyone's guess. Vince Velasquez made some really good plays last season, right? Let's just give it to him.
Left Field
Um, Andrew McCutchen, I guess?
Center Field
Unfortunately, nobody played center field for the Phillies this season. Maybe next year! But, if we had to name one, it would probably be Roman Quinn for his speed.
Right Field
Fun fact: Bryce Harper is the everyday Phillies right fielder. You might not have known this, because he kind of slips under the radar. That's because he isn't very famous, talented, nor well-paid. However, he did play right field in almost every game this year. Good job, Bryce! Gold Glove for you!
And there you have it. Even in a disappointing season, we can still celebrate the tremendous effort the Phils put into their defense. Check back soon for my team Silver Slugger Awards.