Should Phillies exercise any of their 2021 team options?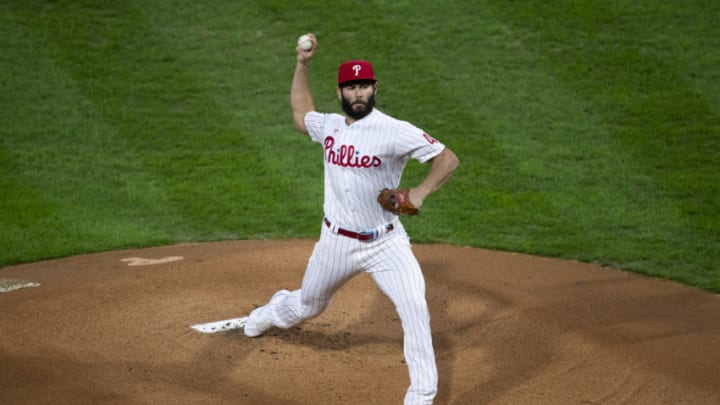 Jake Arrieta #49 of the Philadelphia Phillies (Photo by Mitchell Leff/Getty Images) /
David Phelps #31 of the Philadelphia Phillies (Photo by Hunter Martin/Getty Images) /
David Phelps — $4.5 million
The Milwaukee Brewers dealt right-handed reliever David Phelps to the Phillies at the end of August, marking his fourth different team since the start of the 2019 season.
Phelps' best career season to date came with the Miami Marlins in 2016, where he posted a 2.28 ERA and 1.142 WHIP, along with a 7-6 record and four saves in 64 games. The right-hander spent 2017 between the Marlins and Seattle Mariners, before an elbow injury ended his year and all of the next following Tommy John surgery.
Phelps did okay in his 2019 return with a 3.41 ERA and 1.398 WHIP; he improved to start the shortened 2020 season, posting a solid 2.77 ERA and 0.692 WHIP. Unfortunately for the Phillies, Phelps did not come to them as advertised.
He made his red pinstripes debut with a clean 1 1/3 innings against the Washington Nationals in early September, before giving up eight runs off of nine hits and three walks over his next four innings (five games) combined.
Phelps responded with 2 1/3 no-hit innings in three games, before giving up three runs off of three hits, while not recording an out, in his final game of the season against the Nationals.
While his sample size with the Phillies is less than a month, the numbers are striking. Since being traded, he's surrendered five more hits and six more runs, despite pitching in two fewer games and 6 1/3 fewer innings than he did with the Brewers.
There's not much money tied to Phelps, with a $4.5 million option and $250,000 owed if they decline. With his inconsistency and poor performance as a Phillie, perhaps trying to find another reliever would be the better option.