Should Phillies exercise any of their 2021 team options?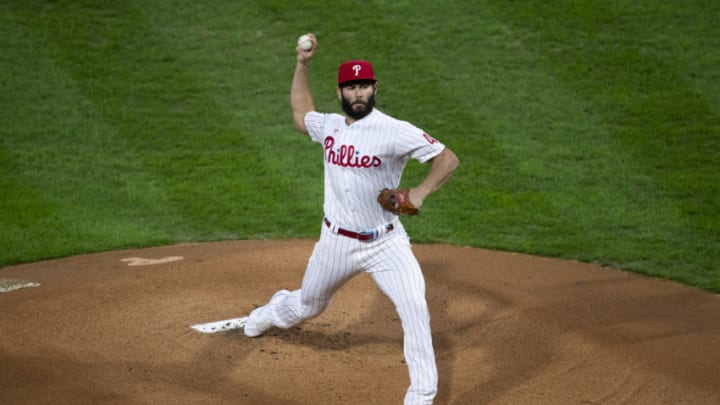 Jake Arrieta #49 of the Philadelphia Phillies (Photo by Mitchell Leff/Getty Images) /
Four Phillies pitchers have 2021 team options; should any be brought back?
The Philadelphia Phillies will soon have important decisions to make with their four pitchers eligible for team options next season.
Making things more challenging is the fact that with the 2020 season, there was a limited, 60-game sample size of only 60 games and no postseason appearance. Not to mention, the general manager seat is currently vacant.
While it could be hard to judge these four pitchers' performance this past season, they have enough MLB experience to give the Phillies some indication of what they could contribute next season.
Nearly $50 million from the options could otherwise be used to improve areas of need, including the bullpen; so, what should the Phillies do?
---
Jake Arrieta — $22.5 million
Former Cy Young Award winner Jake Arrieta joined the Phillies as a free agent entering the 2018 season. The 2016 World Series champion has seen a steady decline since his career-best days as a member of the Chicago Cubs. While donning red pinstripes, his ERA and WHIP were 3.96 and 1.286 in 2018, 4.64 and 1.474 in 2019, and 5.08 and 1.511 in 2020.
There were also injuries, with the right-hander making 24 starts before being sidelined with a season-ending bone spur in his right elbow in August 2019. Once again, his season ended early in 2020 with a Grade 1 hamstring strain sidelining him in mid-September. Arrieta posted a 4-4 record in nine 2020 starts before the latter injury.
The Phillies already have at least five starters under team control in 2021 — Aaron Nola, Zack Wheeler, Zach Eflin, Spencer Howard, and Vince Velasquez. Yet, they can still choose to shop for another starter with the money saved by not exercising Arrieta's $22.5 million option..
Arrieta's time with the Phillies did not go as expected, with his best days likely in the rear-view mirror. No matter what category you look at, you're likely to continue seeing a downward trend for Arrieta; the injury concerns are another reason why it could be best to part ways.