Phillies' Single-A minor-league affiliate changes name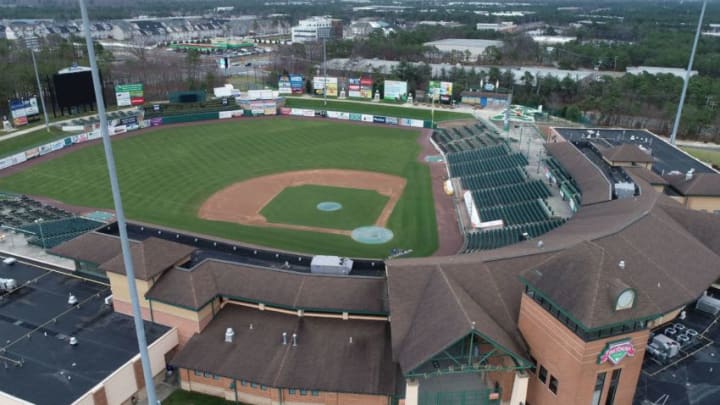 FirstEnergy Park in Lakewood, home of the Lakewood Blueclaws. /
The Phillies' Single-A Lakewood affiliate has changed its name
Since 2001,  the Lakewood BlueClaws have served as the Philadelphia Phillies' South Atlantic League Single-A affiliate. Before that, from 1995 to 2000, their Sally League affiliate played in North Carolina as the Piedmont Boll Weevils.
Wednesday evening, the next chapter got underway for the Ocean County-based Phillies affiliate — a name change to the Jersey Shore BlueClaws. The official announcement was made outside of Convention Hall in Asbury Park.
Art Matin, managing partner of Shore Town Baseball — the BlueClaws operating partner — called the announcement a "banner day" for both the Phillies affiliate and the Jersey Shore.
"The Jersey Shore is an amazing place to work and to raise a family," added Joe Ricciutti, the BlueClaws team president. "The BlueClaws are proud to play a role in the fabric of the Shore's vibrant community."
With the rebrand, the BlueClaws unveiled new logos, as well as a new cap and jersey, that depict a crab surfing and boogie boarding — celebrating the "Jersey Store lifestyle." Also, the new BlueClaws color scheme is said to represent the shore and include Phillies Red, Dark Atlantic Blue, Crab Blue, and Golden Yellow.
Wednesday's announcement, attended by the beloved Phillie Phanatic, also revealed that the BlueClaws agreed to exercise an option at FirstEnergy Park, thus officially keeping them in Lakewood Township through 2031. With Minor-League Baseball's future facing uncertainty, this commitment surely marks a positive step in the right direction.
The BlueClaws have had noticeable success over the years since their 2001 founding, winning five division titles (2006, 2009, 2010, 2016, and 2018) and three league titles (2006, 2009, and 2010).
While World Series champion catcher Carlos Ruiz was a member of the first BlueClaws team in 2001, slugger Ryan Howard goes down in team history as their first former player to reach Major League Baseball. Former Phillies southpaw ace Cole Hamels followed suit in 2003.