Phillies doing 'background work' on J.J. Picollo for GM role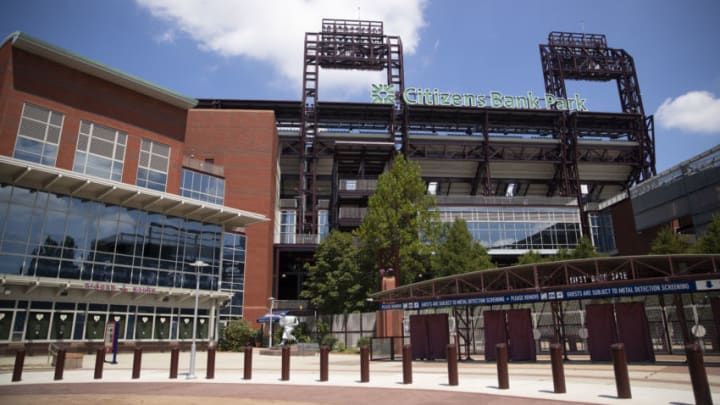 A general view of Citizens Bank Park (Photo by Mitchell Leff/Getty Images) /
J.J. Picollo and Dave Dombrowski are two names to watch to potentially replace Matt Klentak as the Phillies general manager.
Other than potentially re-signing perennial All-Star catcher J.T. Realmuto, who the successor will be to former general manager Matt Klentak is perhaps the second-most popular question mark for the Philadelphia Phillies this offseason.
When Klentak stepped down earlier this month — after five full seasons in the position without a postseason appearance — not much clarity was provided other than that Ned Rice would serve as interim general manager.
Now, rumors are beginning to swirl as to who just might replace Klentak on a permanent basis, as Jon Morosi mentioned two well-known names during a MLB Network appearance on Saturday.
"One name that I'm told the Phillies are doing some background work on already [is] J.J. Picollo, the Assistant GM of the Kansas City Royals," Morosi said, before adding: "I would also say Dave Dombrowski is another name to watch there potentially with the Philadelphia Phillies."
Picollo recently completed his sixth season as the Royals Vice President and Assistant General Manager of Player Personnel. Prior, he was the Royals' Assistant General Manager of Scouting and Player Development — a role he held since 2008 — among other roles.
During the beginning of his baseball front office career, Picollo worked in the Atlanta Braves organization as an area scouting supervisor for Virginia, Maryland, Delaware, West Virginia, Pennsylvania, New Jersey and Washington, D.C.
"[He is] very highly regarded [and has an] outstanding player development and scouting background," Morosi said of the Cherry Hill, New Jersey, native. "He has some connections to Pennsylvania that could be a natural fit from a personal standpoint." Morosi notes that Picollo was also a candidate during the Phillies' previous GM search to replace Ruben Amaro Jr.
As for Dombrowski, his baseball career has spanned decades; his first general manager role came with the Montreal Expos in 1988. He eventually lead the Florida Marlins to its first World Series championship in 1997, before taking the helm of the Detroit Tigers and likewise helping them to two pennants in 2006 and 2012. From 2015-19, Dombrowski was in charge of the Red Sox, who posted three seasons of 93 wins or more, coupled with a 2018 World Series championship.
Dombrowski alone has four pennants and has won two World Series (1997, 2018) — which is three shy of the Phillies' seven all-time pennants, but matches their championships in 1980 and 2008. He was named a Baseball America Executive of the Year in 2006 and 2018.
While Morosi mentioned these two names to watch for the Phillies general manager position, he noted that a decision likely would not come any time soon. Right now, he says the Phillies are "still working through internal decisions about their overall staffing levels," a trend seen around Major League Baseball due to the COVID-19 crisis and depleted revenue generated in 2020.
These decisions, according to Morosi, "should be clarified in the next couple of weeks" and that "probably more likely in November, we will start to get some clarity on where the Phillies' search is going."