Joe Morgan: A look back at his time with the Phillies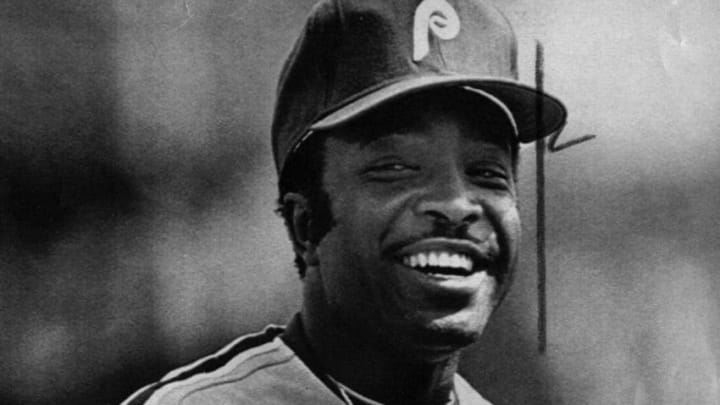 Joe Morgan of the Philadelphia Phillies (The Enquirer/Michael E. Keating) /
Baseball great Joe Morgan, who spent one season with the Phillies, passed away on October 11; here's a look back at his Hall of Fame career.
Upsetting news broke early Monday of former Philadelphia Phillies baseball great Joe Morgan passing away at the age of 77 — much too young.
A first-ballot Hall of Famer, Morgan was inducted into the National Baseball Hall of Fame in 1990 and his jersey No.  8 was retired by the Cincinnati Reds in 1998.
Morgan quite obviously had a great career. Over 22 years, Morgan had 9,277 at-bats spanning 2,649 games, where he hit 268 home runs, 1,133 RBI, while stealing 689 bases, and posting a .271 batting average.
Morgan received several awards and recognitions in his career, including a Silver Slugger Award in 1982; a Gold Glove Award in every year between 1973 and 1977; National League All-Star recognition in 1966, 1970 and every year between 1972-1979; All-Star MVP honors in 1972; National League MVP honors in 1975 and 1976; and a World Series championship in 1975 and 1976.
At age 39, Morgan spent the 1983 season with the Phillies. While he was with the Phils, he got to play again with former teammates Tony Perez and Pete Rose — part of the Big Red Machine. Morgan was again involved in a lineup that had a name — the "Wheez Kids."
During the 1983 season, Joe had 404 at-bats across 123 games, where he slugged 16 home runs, 59 RBI, while stealing 18 bases and posting a .230 batting average.
"While Joe Morgan only spent one season of his Hall of Fame career in Philadelphia, he left a mark that won't soon be forgotten," the Phillies said in a team statement on Monday. "His magnificent September of 1983, when he batted .337 with a 1.045 OPS, was a major factor in the Phillies' going 22-7 that month to overtake the Pittsburgh Pirates in the division en route to the National League pennant."
The Phillies went on to describe Morgan as a "gentleman first and foremost," as well as a "model citizen on and off the field" who "will be missed by baseball fans not just in Philadelphia, but around the world."
Morgan was one of the best second basemen to ever play the game; he helped the Phillies win the National League pennant in 1983 and reach the World Series, only to fall short to the Baltimore Orioles.
Morgan retired in 1984, after the Phils released him and the Oakland Athletics picked him up.
After his playing career, Morgan went on to become a broadcaster in 1985 with the Cincinnati Reds, then to ABC Sports, NBC Sports, and ESPN.
He was still broadcasting until 2010 when he became an advisor for the Cincinnati Reds, returning to the team that he went into the Hall of Fame with.
What a great sports-filled career to look back on, with so many accomplishments, and an even better man.
Our condolences go to Morgan's family and friends during this tough time.