Phillies to select 13th overall in 2021 MLB Draft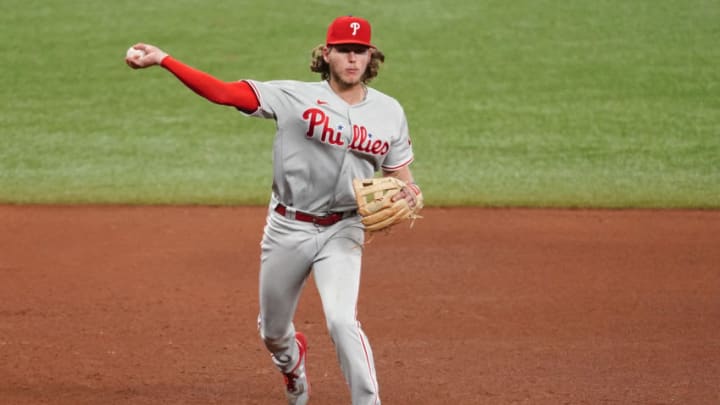 Alec Bohm #28 of the Philadelphia Phillies (Photo by Douglas P. DeFelice/Getty Images) /
The Phillies will have the No. 13 overall pick in the 2021 MLB Draft.
The 2021 Major League Baseball Draft order is set, and, thanks to The Athletic, we now know when the Philadelphia Phillies will make their first-round selection.
Despite speculation that MLB Commissioner Rob Manfred could modify the 2021 draft order amid the ongoing COVID-19 crisis, it will remain in its normal, reverse order of winning percentage.
Therefore, given manager Joe Girardi's squad finished their 60-game 2020 season with a 13th-worst .467 winning percentage — just 16 points shy of the last-qualifying postseason team in the Milwaukee Brewers (.483), the Phillies will select 13th overall in the first round. The Phillies' Pennsylvania state-rival Pittsburgh Pirates, meanwhile, will select first overall.
A contingency had been made in case the 2020 season was canceled early, according to The Athletic; in this scenario the 2021 draft order could have been determined through a "one-time draft lottery or a combination of 2019 and 2020 records." The Phillies finished with MLB's 15th-worst record in 2019, meaning in the latter scenario they could have had the 14th pick — an average between their 2019 and 2020 season finishes.
This year's draft saw a noticeable change, from the usual 40 rounds to just five. The 2021 draft will reportedly expand to between 20 and 30 rounds, and, rather in June, it will take place on July 11 as part of the MLB All-Star Game festivities in Atlanta, Georgia.
In 2020, the Phillies selected RHP Mick Abel (round one, 15th overall), infielder Casey Martin (round three, 87th overall), RHP Carson Ragsdale (round four, 116th overall), and outfielder Baron Radcliff (round five, 146th overall). The team did not have a second round pick, due to necessary draft pick compensation to the New York Mets for the signing of RHP Zack Wheeler.
All four of Abel, Martin, Ragsdale, and Radcliff signed deals with the Phillies.
The last time the Phils had a first-round pick higher than 13th overall was in 2018, when they selected infielder Alec Bohm third overall out of Wichita State University. A year prior, they took outfielder Adam Haseley eighth overall out of the University of Virginia.
The last No. 13 overall Phillies selection came in 1992, when they took outfielder Chad McConnell out of Creighton University; McConnell never reached higher than the Double-A level, with his last professional season coming in 1996 as a 25-year-old with the Double-A Reading Phillies.