Phillies: Our favorite must-see Phillie Phanatic moments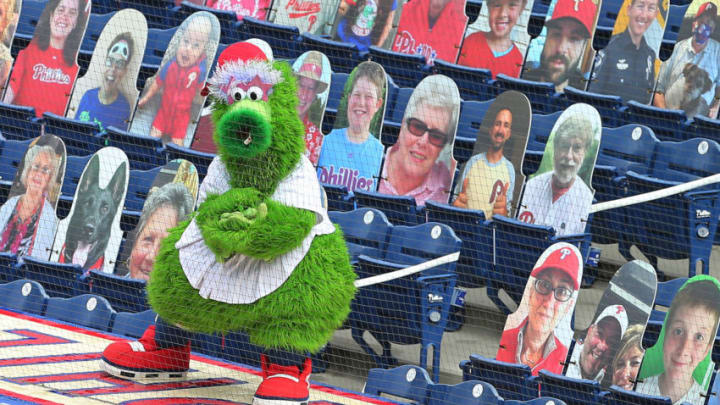 The Phillie Phanatic entertains amongst the cardboard cutout fans (Photo by Rich Schultz/Getty Images) /
Amid the final Phillies homestand of the 2020 season, we look back at fun Phillie Phanatic moments
Undoubtedly, the Philadelphia Phillies have the best mascot in baseball — maybe even in all of sports. The Phillie Phanatic is hilarious and constantly provides "laugh out loud" moments, such as Wednesday night when he tossed popcorn onto a cardboard cutout of a New York Mets fan.
For me, laughing helps during this crazy time we're in. I thought, during the final Phillies homestand of the 2020 season, to compile some of my many favorite Phillie Phanatic moments in one place for us to watch and enjoy.
If you've ever worked in an office and got frustrated at equipment, your chair, or even just being asked to awkwardly wait for someone, you can probably relate to this first video. The Phanatic was asked to wait in an office and proceeded to, well …  just take a look.
I mean, isn't he a mood? When he started hitting the chair, I could totally relate. Office chairs can make or break the day.
Next, we have the Phanatic visiting MLB Network and being his crazy, funny self.
Who else wishes they could run around MLB Network's studios like that? How awesome would that be?
Next up, this is more recent and oh-so-relevant to what's going on right now. Hand sanitizer is important; so, of course, the Phanatic wanted to make sure umpires don't have a shortage of it.
So over the top but so funny! You have to love him.
Last but not least, here he is during a rain delay, providing great entertainment while everyone was waiting around.
I could really go on and on with Phanatic videos. Let's face it, he's done a lot of "laugh out loud"-worthy things over the years.
Hopefully these made you smile and laugh like I know they did for me!