Jake Arrieta may have thrown last pitch in Phillies uniform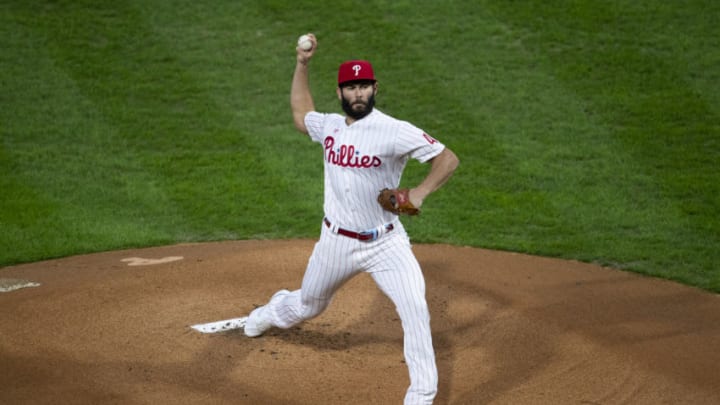 Jake Arrieta #49 of the Philadelphia Phillies (Photo by Mitchell Leff/Getty Images) /
Jake Arrieta may have thrown his final pitch with the Phillies
When the Philadelphia Phillies signed veteran RHP Jake Arrieta to a three-year, $75 million deal in March 2018, they most likely would not have envisioned the former Cy Young Award winner to have a losing record in red pinstripes spanning the contract.
Yet, even while earning the win in Tuesday's series opener against the New York Mets at Citizens Bank Park, Arrieta may still finish one win shy of the .500 mark with the Phillies — currently with a 22-23 record through 64 starts.
Arrieta may never get the chance to even the record. In other words, he may never pitch in a Phillies uniform again.
With one out and runners on first and second in the top of the sixth inning, Arrieta hit the Mets' Andres Gimenez to load the bases. Immediately after throwing the pitch, however, he grabbed at his right hamstring. Manager Joe Girardi then pulled Arrieta, who slowly limped to the dugout. Pain on the 11-year veteran's face was noticeable.
Southpaw reliever JoJo Romero entered the game and got former Phillies catcher Wilson Ramos to ground into a double play to end the Mets scoring threat. Romero also pitched a scoreless seventh, also getting that frame's final two outs via a double-play groundout. The left-hander recorded another out in the eighth, striking out veteran Robinson Cano before being replaced by Tommy Hunter.
After the game, Girardi said Arrieta will have tests done on his right hamstring. The skipper added that Arrieta is "tough" and told him he has had a similar injury before and did not miss any time.
Meanwhile, Arrieta told reporters that he will be back for the playoffs, adding: "There's no doubt in my mind. I think I'll be back before that."
Even with Zack Wheeler on the mend and set to make his next start on Wednesday, losing Arrieta would be a blow to the Phils' rotation, which is already without rookie RHP Spencer Howard (shoulder stiffness). The Phillies were relying on Arrieta to pitch two more starts this season following his Tuesday outing — Sunday at home against the Toronto Blue Jays, and away on September 25 in the team's final series of the season against the Tampa Bay Rays.
Arrieta surrendered just one run through 5 1/3 innings in the outing on eight hits and one walk. The victory was the 110th for his career. While a team may sign the 34-year-old free-agent this offseason, for now, it appears as though the right-hander has finished his Phillies tenure on a winning decision high note.
More will surely come on Arrieta's injury following the game.