Phillies: Larry Andersen grateful for Scott Franzke pairing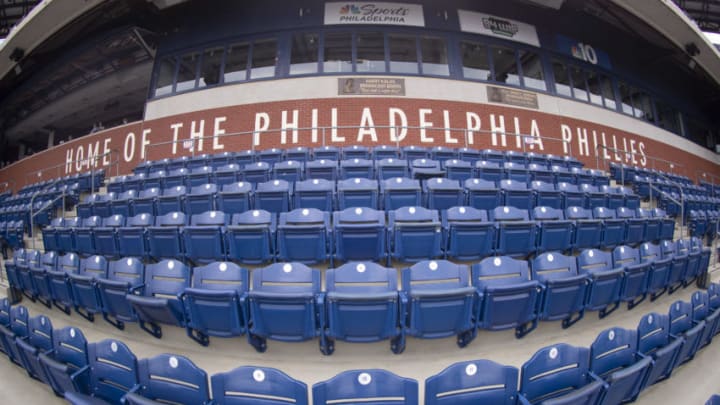 A general view of the stadium seats at Citizens Bank Park (Photo by Mitchell Leff/Getty Images) /
Phillies radio color analyst Larry Andersen says being paired with Scott Franzke was the best thing that ever happened to him.
Former Philadelphia Phillies pitcher Larry Andersen has turned a 17-year playing career into an even longer career in the broadcast booth. This unprecedented 2020 season marks Andersen's 23rd while serving as a color analyst for Phillies games. And while Andersen is the club's longest-tenured current broadcaster, his career in the booth has not always been on the radio; it started out in television.
Then, it was not until 2007 that Phillies fans across the Delaware Valley first heard the radio pairing of Andersen with main play-by-play commentator Scott Franzke — who joined the broadcast team a season prior as the pre- and postgame host and radio play-by-play for the middle innings.
The duo has been paired ever since. Andersen said in a recent interview on SportsRadio 94 WIP that while he took the transition from television to radio as a demotion at first, he now looks back and says, "You know what, somebody was watching over me. Somebody was taking care of me."
"We hit it off, when [Franzke] came here, as friends. When he got here, basically, they said, 'You're not doing TV anymore.' I took it as a demotion," Andersen recalled. "They said, 'Well, we got a new guy coming and we think you'd be easier to work him in or work with him' — just because of my personality, I guess. They told [Franzke] they wanted him working with me to try and bring my personality out more."
Well, Franzke did just that. The duo has won several awards over the years, including being honored at the Philadelphia Achievement in Radio Awards for winning for Best Live Sports Event Coverage in 2007 and 2008. Also, in 2017, the Philadelphia Sports Writers Association awarded them the Bill Campbell Award for excellence in local broadcasting.
What some fans may not know is, Andersen nearly became a Houston Astros broadcaster instead, following his playing career. In 1997, he had been offered a position when Larry Dierker transitioned from the booth to a managerial role. Instead, Andersen chose to become the pitching coach for the Phillies' Triple-A Scranton/Wilkes-Barre affiliate. In 1998, he began his Phillies broadcast career.
"As far as a post-baseball career — outside of coaching and broadcasting — the best thing that ever happened to me was leaving TV, going to radio, and working with Scott," said Andersen, who in recent seasons has chosen to reduce his schedule to calling mostly home games and select road series. "I truly mean that from the bottom of my heart."
"It was a blessing in disguise."