Phillies fan proposes through in-stadium cardboard cutouts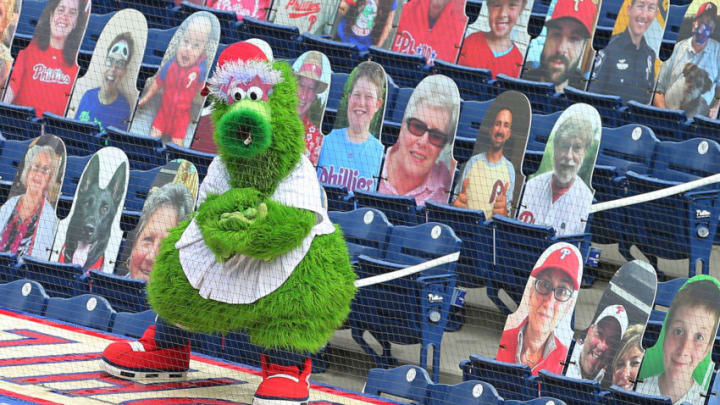 The Phillie Phanatic entertains amongst the cardboard cutout fans (Photo by Rich Schultz/Getty Images) /
Even without Phillies fans attending in person, a proposal still took place at Citizens Bank Park this season
The pandemic has certainly changed the landscape of several aspects in life in recent months — even proposals. Diehard Philadelphia Phillies fans Jared Rumnock and Kelly Bailey experienced this first-hand, thanks to the creative mind of the now-groom-to-be.
Jared wanted to something unique and different that did not cost a ton to propose to his longtime girlfriend, who is also the mother of his two sons. Given their baseball fandom, it was a no-brainer for Jared to theme the proposal around baseball. But, with fans not allowed inside Citizens Bank Park out of health and safety protocols, he then turned to cardboard cutouts.
RELATED | Red-hot Phillies match feat from franchise-best 2011 season
When the Phillies began allowing fans to purchase a cutout around the first week into the shortened 2020 season, Jared submitted photos of himself and Kelly. On his cutout, in particular, he held a sign asking Kelly to marry him.
"I wasn't sure how it was going to work," Jared said Monday morning on FOX29. "I was more concerned about her seeing it. I wasn't sure how she would see it originally."
Jared said he had seen their cutouts occasionally on TV, and joked that he thinks Kelly wondered why he wouldn't stop watching during a commercial break.
"I was glued, seeing if they would ever show it," Jared said.
Then, the Phillies came out with a unique 360-degree Fancam website, where fans can search and zoom in to see their cutout displayed inside Citizens Bank Park.
"That worked out perfectly. I just needed her to see it," Jared said. "Unfortunately, the guy sitting in front of me was blocking 60 percent of the sign, but you could just make out — she got the gist of it though."
Jared said he showed Kelly the photo of their cutouts on his phone, located just left of the left field foul pole in section 139.
RELATED | Phillies honoring healthcare heroes with 'game face' cutouts
"He called me downstairs and he was like, 'You'll never guess who is at the Phillies game.' I was in my own world and was like, 'Wait, nobody's at the Phillies game,'" Kelly said. "I zoomed in on the picture; it was completely literally out of left field. I had no clue. I was like 'What?'"
"I said 'yes' right away."
Kelly continued on how Jared tried to get their cutouts shown on TV. While she feels bad that did not work out the way he wanted, his gesture was still awesome and unexpected, and that she was "very excited."
Congrats, Jared and Kelly! Phillies fans can only hope that your cutouts will have the chance to be shown on television well into October during postseason baseball.