Phillies: Alec Bohm joins infield, Scott Kingery odd man out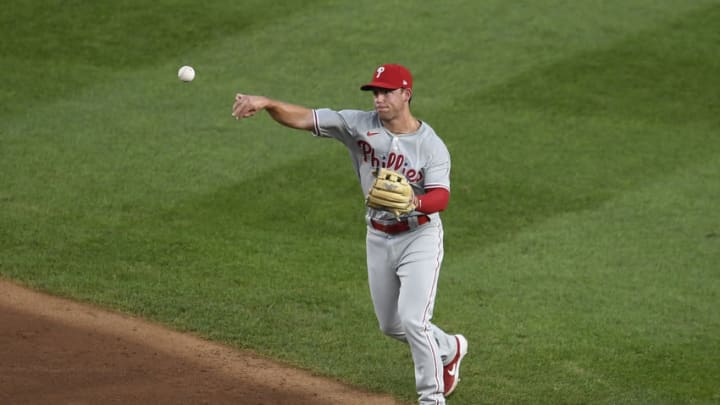 Scott Kingery #4 of the Philadelphia Phillies (Photo by Sarah Stier/Getty Images) /
With top Phillies prospect Alec Bohm's promotion to the majors, Scott Kingery appears to be the odd man out in the infield
Top Philadelphia Phillies prospect Alec Bohm has reached the majors, and it does not appear the former first-round draft pick is headed anywhere anytime soon.
Following Bohm's Thursday afternoon promotion to the majors, and ahead of his debut opposite former Phillies right-hander prospect Tom Eshelman, general manager Matt Klentak said that Bohm will play regularly in the team's starting lineup.
Klentak continued that Jean Segura will transition back to his 2019 starting position of second base — meaning, at least for now, Scott Kingery appears to be the odd man out in the Phillies infield.
Despite this apparent demotion, Klentak said the team still views the Phoenix, Arizona, native in Kingery as an "everyday player," either in center field or in a variety of other positions — as he has become accustomed to in recent seasons in a utility role.
RELATED | Larry Bowa: Phillies' Scott Kingery has All-Star potential
In 11 games and 43 plate appearances in the 2020 season, following a scare with the COVID-19 virus, Kingery has slashed just .100/.163/.100 with only four singles, two runs scored, one RBI, three walks and 10 strikeouts.
Klentak admitted to reporters that the Phillies made the moves in part because of Kingery's struggles; he added that the team believes Kingery is healthy, but acknowledged the "unknowns" surrounding "post-COVID effects."
The new-look Phillies lineup will make its debut on Thursday against the Baltimore Orioles, with Segura playing second base and Bohm at third base. Kingery received the day off in center, but with Adam Haseley placed on the 10-day injured list, he could get several looks at the position in the coming days.
However, when Haseley — who has hit well this season — returns healthy, what does that leave for Kingery's playing time at the position, not to mention Roman Quinn's? Of course, there is now the designated hitter spot, meaning Kingery as a utility player could fill in a variety of positions, sparing others time off in the field.
Also, if first baseman Rhys Hoskins continues to struggle, perhaps Bohm could play there — where he fielded innings this past summer camp — allowing Kingery to start at third.
Regardless, it appears that with Bohm on the big-league roster and Segura moving back to second base, the days of Kingery being an everyday Phillies infielder at a single position are over — for now.