Phillies: J.T. Realmuto crushes 3rd home run vs. Yankees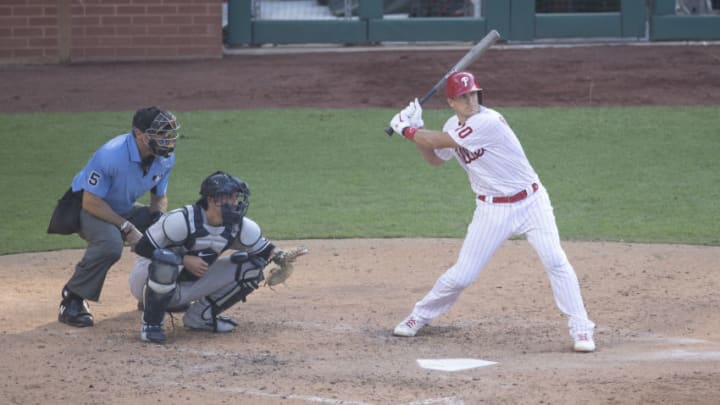 J.T. Realmuto #10 of the Philadelphia Phillies (Photo by Mitchell Leff/Getty Images) /
Phillies catcher J.T. Realmuto crushed his 3rd home run of 2020
Philadelphia Phillies catcher J.T. Realmuto appears to be locked in, just seven games into the shortened 2020 season.
With two runners on and one out — batting cleanup in the bottom of the first inning in Thursday evening's series finale against New York Yankees LHP Jordan Montgomery — Realmuto crushed a three-run home to give the Phillies an early lead, 3-0 lead.
The home run — his second of the series, with the other being a solo home run in Game 1 of Wednesday's doubleheader — traveled 357 feet. The blast was Realmuto's third of the season, his 28th in a Phillies uniform dating back to 2019, and his 87th overall across his seven-year career. The blast also increased Realmuto's season RBI total to 8.
Leading up to Realmuto's plate appearance, starting pitcher Zach Eflin tossed a scoreless top of the first while making his season debut — including striking out slugger Giancarlo Stanton looking to end the frame.
Then, came the Phillies up to bat. Andrew McCutchen began with a line out to short opposite Montgomery, and then Rhys Hoskins followed with a seven-pitch walk. No. 3 hitter Bryce Harper then singled to shallow right on his fifth pitch seen, a 92 miles per hour sinker.
Realmuto's plate appearance thereafter began with two straight strikes looking. Montgomery then tossed a low sinker for a ball. After fouling a changeup off, it was his fifth pitch that Realmuto took deep to left field.
Realmuto's Thursday home run was the ninth such of his career with two runners on base. The most recent came in the Phillies' second game of the season, July 25 against the Marlins, when the All-Star catcher hit a three-run blast in the bottom of the seventh to give manager Joe Girardi's squad a 6-1 lead.
After his home run on Thursday, fans standing outside the center field gate could be heard yelling "Sign J.T." It is good to see Realmuto slugging the baseball with success early on in his contract year. The Phillies are on the clock.