Phillies, Blue Jays to play twin bill in Buffalo this month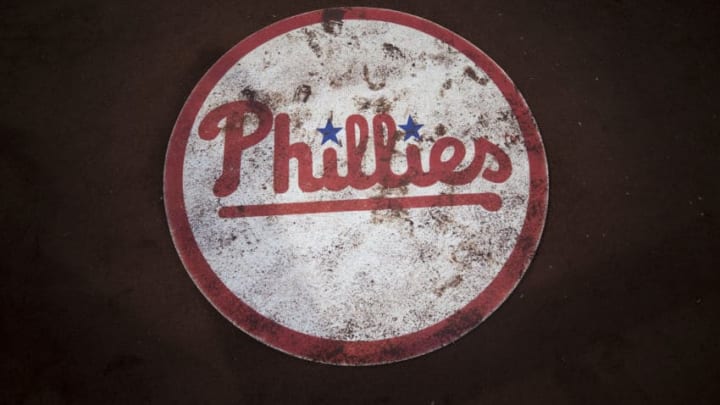 A general view of the Philadelphia Phillies batting circle (Photo by Mitchell Leff/Getty Images) /
The Phillies will play in Buffalo this month to make up two of their three postponed games against the Blue Jays
The Philadelphia Phillies' postponed series against the Toronto Blue Jays last month has undergone a lot of changes.
Manager Joe Girardi's squad was first supposed to play them from July 31-August 2 at the Rogers Centre. Then, the series got moved out of Canada due to its government barring the American League East team from playing there due to COVID-19 safety protocols.
The Blue Jays eventually found a home for the 2020 season in Buffalo, but its was determined Sahlen Field would not be ready in time. Therefore, the series got shifted to Philadelphia. Then the Phillies' COVID-19 scare hit amid the Miami Marlins outbreak. So, the July 31 game got rescheduled to a doubleheader on Sunday, August 1. Eventually, the entire series would be postponed out of precaution.
RELATED | Phillies announce revised 60-game schedule for 2020 season
A lot of steps. The yet-to-be-played series took another turn on Thursday. According to Sportsnet's Shi Davidi, both teams will make up the postponed three-game series through a pair of doubleheaders.
The Phillies and Blue Jays will make up the first two games, during a common off day on August 20, with a twin bill doubleheader. Both games, with the first starting at 1:05 p.m. will last seven innings. That day, the Phillies will be coming off a brief, two-game road set against the Boston Red Sox (August 18-19), after having off on August 17; they were slated to have off on August 20 as well, before traveling to Georgia to face the Atlanta Braves.
The Phillies' third game of their postponed late July/early August series against the Blue Jays, according to Davidi, will be tacked onto the teams' September 18-20 series at Citizens Bank Park. The September 18 series opener will feature the twin bill. So, similar to how the New York Yankees batted as the home team in Game 1 of Wednesday's doubleheader, the Blue Jays will do the same in the makeup game.
---
Phillies-Marlins road series rescheduled
Also on Thursday, Major League Baseball announced that the Phillies will play seven road games against the Marlins in five days next month to make up for last week's postponements:
September 10: 6:40 p.m
September 11: 5:10 p.m. (doubleheader)
September 12: 6:10 p.m.
September 13: 1:10 p.m (doubleheader)
September 14: 4:10 p.m.
In total, the Phillies will play 12 games across a nine-day stretch from September 10-18; they will play 36 games across the final 34 days of the season, with the only off-day being September 24.
---
Ten years ago, the Blue Jays' June 2010 home series against the Phillies was moved to Philadelphia due to security concerns. Roy Halladay started one of the games. The series seemed unprecedented at the time, but, now, it is nothing considering the drastic rule changes made so far this season.