Phillies: Bryce Harper, Rhys Hoskins share pregame tradition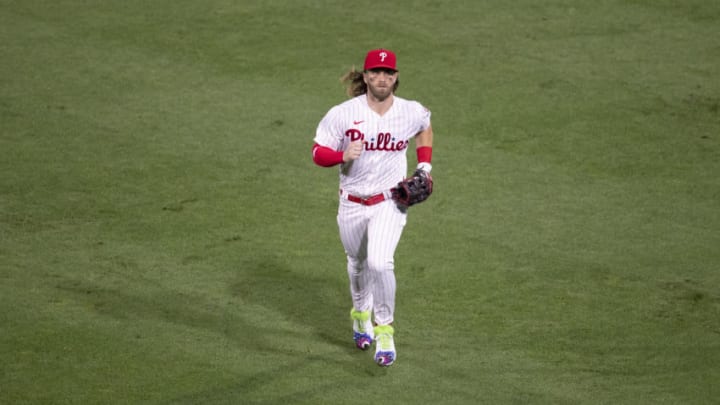 Bryce Harper #3 of the Philadelphia Phillies (Photo by Mitchell Leff/Getty Images) /
Phillies sluggers Bryce Harper and Rhys Hoskins share this pre-game tradition
While most traditions this Major League Baseball season and year overall have been broken, some still remain. Among those, includes a gameday tradition between sluggers Bryce Harper and Rhys Hoskins.
According to the six-time All-Star outfielder in a recent interview with Rawlings, he and Hoskins have cereal before every game called Maple Crunch.
"It's actually this super healthy cereal … but its [the] 'bomb,'" Harper said. "We eat it before every single game and it kind of just became a thing, where we go in there after [batting practice] and we eat our cereal."
RELATED | Phillies: Bryce Harper names his closest teammates
This Harper-Hoskins pregame tradition does not just happen at Citizens Bank Park, but also on the road.
"They actually bring it on the road for us as well," Harper said. "The lady that travels with us brings it all the time for us. She's awesome and keeps everything going for us. In-season at the field, I love cereal."
As far as postgame traditions, Harper continued that he is fortunate, as a baseball player, to be able to travel around the country and eat dinners at certain places.
"Sushi is one of my favorite meals to eat, so I really enjoy that. Pizza, of course. There's a great spot in New York on Mott Street down in NoHo that I love," he said. "One of my favorite steakhouses, Lebanese food, actually, is in Chicago. There's certain places around the country that I'm very fortunate to eat."
"I love to eat, so I'm going to eat what I want. I'll just do a couple more burpees the next day."
Just as any other athlete, diets mid- and offseason can look significantly different; Harper said he loves to eat steak while back at home in Las Vegas.
RELATED | Phillies: Bryce Harper shocks fan on Fortnite for his birthday
"I'm a steak guy. Always will be. Meat, potatoes," said the outfielder, who added for Sunday dinners, his family always enjoys a roast, potatoes, and carrots.
"We sit around all day and we go to church, then we come back home and the crock pot smells like that," Harper said. "That always takes me back home. Anything my mom cooks [or] my wife cooks; they're both really good cooks."
"I'm very lucky to be able to eat dinner at night and have a great meal."