Phillies players remain COVID-free, can resume workouts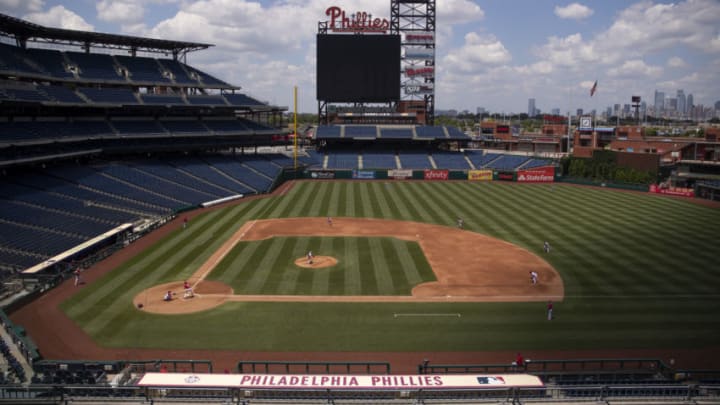 A general view of Citizens Bank Park (Photo by Mitchell Leff/Getty Images) /
Phillies players can workout at Citizens Bank Park for the first time since Wednesday
At least for now, it appears the Philadelphia Phillies have escaped the worst-case scenario after being exposed last weekend to Miami Marlins players who have since tested positive for COVID-19.
For the second straight day, following testing on Friday, the Phillies have announced no new cases of COVID-19 among players or staff. As a result, players are permitted to access Citizens Bank Park — for the first time since Wednesday — beginning Saturday afternoon for staggered workouts.
RELATED | J.T. Realmuto may have played his last game with Phillies
It will be just their second time together since their most recent of three overall games played so far in the shortened season, last Sunday against the Marlins.
Phillies workouts on Thursday and Friday were canceled after a coach and a home clubhouse staff worker tested positive for the virus, on top of their visiting clubhouse attendant previously testing positive. As a result, the organization closed Citizens Bank Park for all activities "until further notice." Now, according to ESPN's Jeff Passan, those results were actually false-positives.
And, so far, unlike the Marlins and St. Louis Cardinals, no Phillies player has tested positive since the season began; their ballpark now re-opens, but when the team will play again is not yet official — but believed to be as early as Monday.
So far, 10 of the team's originally scheduled 60 games — from July 27 to August 6 — have been impacted: July 27-28 home vs. Yankees, July 29-30 away at Yankees, July 31-August 2 away at Blue Jays (which had since been transferred to Citizens Bank Park with the team's Buffalo venue not yet ready), and August 4-6 away at Marlins.
Along the way this past week, MLB had decided to cancel the Phillies-Blue Jays game on July 31 and have them play a doubleheader on August 1, before concluding the series on August 2. However, the Phillies two COVID-positive results this past week canceled those rescheduled plans.
Also, on the original schedule, the Phillies were supposed to play away against the Marlins, August 4-6, but MLB Network's Jon Heyman reports they will not travel to Miami. Instead, he adds, they will next go to New York to play the Yankees twice, before returning to Citizens Bank Park to play them for two more games — hence making up the July 27-30 postponed home-and-home series. This revised schedule has not been made official.
With players allowed to resume baseball activities, cautious optimism should remain. The pandemic still exists and is not going away. Hopefully, baseball has learned from the Marlins outbreak.