Phillies: Game postponed, COVID-19 tests return negative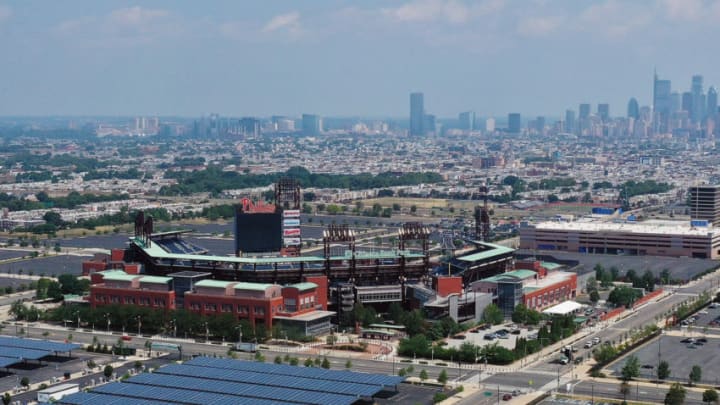 Citizens Bank Park (Photo by Bruce Bennett/Getty Images) /
The Phillies-Yankees game has been postponed for the second straight day; all Phillies player COVID-19 test results returned negative
There will be no live Philadelphia Phillies game action for a second consecutive night after a confirmed COVID-19 outbreak within the MiamI Marlins organization, who manager Joe Girardi's squad played at home to open the season this past weekend.
In what would have been the second game of the interleague series against the New York Yankees, Tuesday's game has also been postponed in addition to Monday's series opener, according to multiple reports.
The Phillies were tested for COVID-19 on Monday at Citizens Bank Park and were not allowed to enter the venue; results among players, according to NBC Sports Philadelphia's Jim Salisbury, all returned negative.
Phillies outfielder Andrew McCutchen took to social media to express disappointment on Major League Baseball's protocol to postpone games – seemingly failing to notify players before the media.
The Yankees are now reportedly headed to Yankee Stadium, with both of the scheduled games at Citizens Bank Park postponed; they plan to practice at Yankee Stadium Tuesday evening, in lieu of a game.
The Phillies are expected to continue daily COVID-19 testing for a few more days; they plan to bus to New York after they receive hopefully COVID-negative testing results again early Wednesday.
The two teams have two games in the Bronx currently slated for Wednesday and Thursday. There is no word yet if they will occur either, nor is it known of any make-up date for any of the postponed games.
Possibly, at least one double-header could be played to make up one of the two games. Consecutive double headers seems unlikely, but who knows in a "2020 world."
While results came back negative, it is still unclear of the severity of the spread, from potentially infected Marlins players, coaches, and staff, to those of the Phillies. It's important to note that these initial COVID-negative results does not exactly clear the Phillies.  According to CDC, the incubation period for the coronavirus is at least 14 days. Nonetheless, the results are a good step in the right direction after direct exposure from the Marlins on three consecutive days.
It is better to be safe than sorry, and that appears to be the approach Major League Baseball is taking so far.