Phillies facing Robert Dugger on Sunday, Jose Urena scratched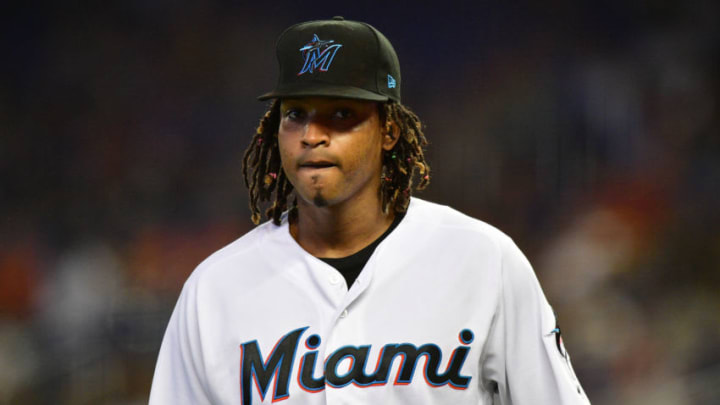 MIAMI, FL - APRIL 14: Jose Urena #62 of the Miami Marlins heard to the dugout during the game against the Philadelphia Phillies at Marlins Park on April 14, 2019 in Miami, Florida. (Photo by Mark Brown/Getty Images) /
The Marlins made a surprising and concerning move before today's Phillies game
Almost an hour before the Sunday matinee game between the Phillies and Marlins, Jose Urena was scratched from the start by Miami.
Marlins beat reporter Joe Frisaro tweeted the change on Sunday morning, saying that Robert Dugger would make the start in place of Urena. No other roster move would be made for the Marlins prior to Sunday's game.
Jon Heyman of MLB Network tweeted that Urena tested positive for COVID-19 prior to his start, but added that Urena feels fine. It's not known at this time whether Urena tested positive at the team hotel or upon arriving at the ballpark.
The news is concerning considering the position baseball is in with COVID-19 and after the Marlins placed catcher Jorge Alfaro on the injured list after he arrived in Philadelphia last week.
Urena was looking to re-establish himself as a promising young arm in the Marlins rotation after posting a 5.21 ERA last season for Miami.
Dugger, an 18th round pick by the Mariners in 2016 who was in the Dee Gordon trade, started seven games last year for the Marlins with a 5.77 ERA.
Miami has already used seven different relievers in their first two games of the season.
Sunday will be Dugger's first game against the Phillies, who unveiled a new lineup on Sunday with Andrew McCutchen getting the day off.
Adam Haseley and Neil Walker will start for the Phillies as the center fielder and DH, respectively, in their first opportunity to start this season. Vince Velasquez is currently scheduled to pitch for the Phillies.