Phillies: Bryan Price gives Zach Eflin update, 2020 outlook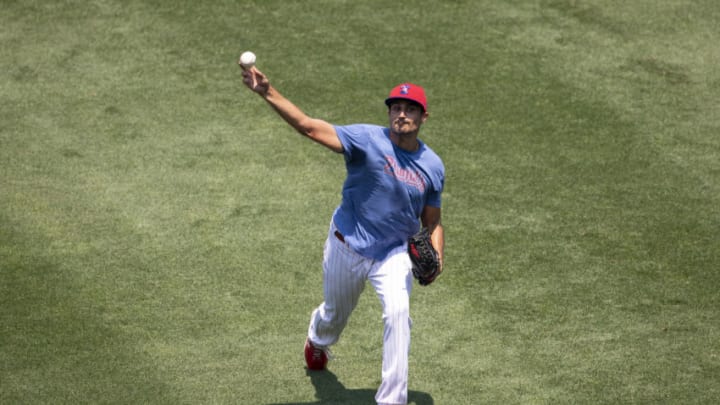 Zach Eflin #56 of the Philadelphia Phillies (Photo by Mitchell Leff/Getty Images) /
Phillies pitching coach Bryan Price gives an update on starting pitcher Zach Eflin, top pitching prospect Spencer Howard, and more
After being sidelined the past few days with back spasms, Phillies starting pitcher Zach Eflin appears to be back on track.
In conversation with reporters Monday evening, new Phillies pitching coach Bryan Price said the right-handers' bullpen session earlier in the day looked "beautiful" and "aggressive," according to NBC Sports Philadelphia's Jim Salisbury.
Eflin, who has yet to throw in an intrasquad game, completed the session without any issues nor limitations.
Phillies manager Joe Girardi was also pleased with how Eflin looked, saying the right-hander threw the ball "very well."
"I think it was 30-32 pitches. He felt really good after. I thought his command was great and threw the ball really well," Girardi said. "The big thing is, we want him to come in and feel good tomorrow. If he does that, then we'll decide what's next."
Howard to debut?
It appears now more likely than ever before that top Phillies pitching prospect Spencer Howard will debut in 2020.
Price told reporters that he "hopes" and "expects" to see the right-hander pitch in the majors in 2020, adding: "He has power, he throws strikes, he's athletic … the sky is the limit."
Howard will turn 24 on July 28, four days after Opening Day; he has yet to pitch above the Double-A level.
Bullpen competition
Price told reporters that there is "a lot of competition" among current Phillies relievers in the player pool.
And, of the 30 overall players to be activated come Opening Day on July 24, Price says the Phillies will likely stick to 16 pitchers. Meaning, if they name five starters, 11 relievers overall would make the team.
Among the relievers Price complemented on Monday included Garrett Cleavinger, Blake Parker, and JoJo Romero. Of the three, only Parker is not currently on the 40-man roster.
Price was also bullish on side-throwing reliever Trevor Kelley, in particular, adding that he has been "unbelievably impressive" dating back to spring training in Clearwater. Like Parker, Kelley is a non-roster invitee and is not on the 40-man roster.
'Secondary' starting pitching
Consistent with Girardi's recent thoughts, the Phillies are having about 12 to 14 pitchers in summer camp stretched out to compete not only as relievers, but as "secondary starters" in case they do not make the team.
Current pitchers in the Phillies player pool who could fit this label, The Good Phight's Alex Carr notes, include Damon Jones, Ranger Suarez, and Cole Irvin, among others.
Just days remain until the Phillies will begin their three-game exhibition slate; then, the 60-game sprint will get underway not too long after. Baseball is closer than ever before in 2020.