Phillies: How the Phanatic can remain visible with mascots banned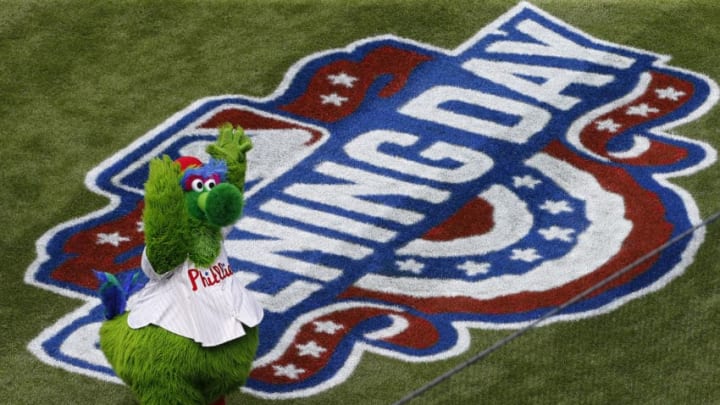 PHILADELPHIA, PENNSYLVANIA - APRIL 11: The Phillie Phanatic in action during opening day ceremonies before the start of an MLB game against the San Diego Padres and Philadelphia Phillies at Citizens Bank Park on April 11, 2016 in Philadelphia, Pennsylvania. (Photo by Rich Schultz/Getty Images) /
It appears the MLB will ban mascots for 2020, but there are still ways for the Phillie Phanatic to remain visible during Phillies home games.
With the most likely option for a 2020 MLB season having the Phillies play in their home stadium, without fans, the question shifts to who exactly will be considered essential for game day.
The Philadelphia Phillies have a prime candidate to make up for the empty seats, their energetic mascot, the Phillie Phanatic. But, under the MLB's proposed Operations Manual, team mascots are not allowed.
The Associated Press reported that a ban on all mascots is one of many points mentioned in a 67-page draft sent to teams.
The Phanatic, for its part, has had a busy quarantine of late.
The big green bird launched "Storytime with the Phillie Phanatic," a weekly Instagram live stream where members of the Phillies community join the mascot to read a series of Phanatic-themed children's books on Wednesday nights.
To date, guest readers have included Joe Girardi and his wife, Bryce Harper, and Ryan Howard with his family.
The Phanatic also took to Instagram to give fans a glimpse of its daily life, including a visit to a local grocery store, mask and all.
Earlier this month, the Phanatic also spent time helping to load the vehicles of local food pantries with needed food during contact-less distribution at Citizens Bank Park.
While it's been a busy quarantine, it looks like the Phanatic will be watching from home, like every other fan, when baseball resumes (unless anyone is motivated enough to negotiate for mascots to be allowed entry).
So, with no fans and no Phanatic, what can the Phillies do for an extra home-field advantage?
For starters, the Associated Press reported that "scoreboard video is prohibited but music allowed."
Music does provide an option for the Phanatic to make its presence known.
In 2015, local rock band Dr. Dog came up with a three-minute tune called "The Phanatic Song." The song has a nice sound to it, with a bit of a retro feel, and would fit in well before the start of an inning.
If the team wants to find a way to replicate the Phanatic's famous antics, how about MLB's 2013 "What's the Phanatic Say," a parody on "The Fox" (or "what does the fox say?"), a song that went viral that year.
Sure, the Phillies' version is a video, but there's no reason why the goofy-yet-catchy song can't be played audio-only over the speakers.
If "Baby Shark" became a rally song for the eventual World Series-winning Washington Nationals, there's no reason why the Phillies can't give one of their two Phanatic songs a try.
Another option to help fill the void at Citizens Bank Park is cardboard cutouts or signage.
The Associated Press reported that "seats in the empty stands near the dugout should be used to maintain distance, according to diagrams in the manual."
While seating can be used to create distance, there's nothing saying that signs and cutouts can't be placed on the other seats not being used (or at least nothing was mentioned in the article).
Imagine a life-sized cardboard cutout of the Phanatic, with its nose in 3D, hanging out behind the plate. If it's not moving, it's not a visible distraction, right? There's no reason why that can't be done. Perhaps it will still help the Phillie fanbase have its presence known to the opposing team.
One cardboard cutout isn't enough, though. If the team is really motivated, how about a contest where winning fans have their face printed on cardboard and taped to seats? If cost is a concern, I'm sure fans would pay for the honor.
Meanwhile, there's no shortage of Phanatic merchandise that can be placed throughout the empty ballpark. Just look at the Phanatic's office backdrop in this interview with CBS Philly.
If there's no rule against the use of signs and cardboard cutouts, the Phillies can make an empty stadium look full, providing their team with some extra fan support while throwing off the opponent (at least until other teams catch on and try to do the same).
There is no doubt that a 2020 MLB season will look very different from the usual, in many regards. While the ban on mascots will be yet another blow, music and signage provide a good "Plan C" for a fan presence during Phillies home games.