Phillies: Nancy Giles, Wife of Bill Giles, Passes Away at 88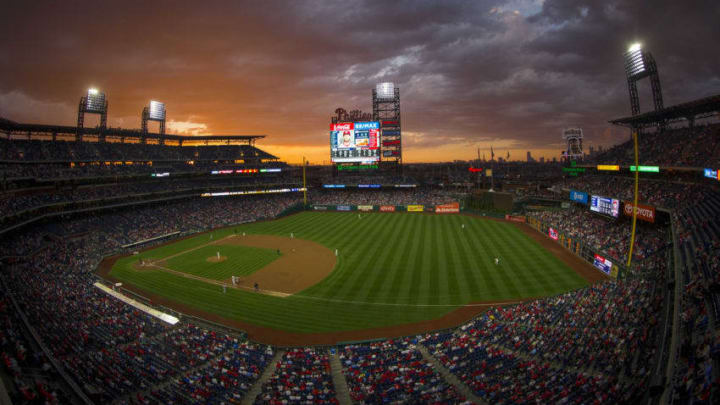 A general view of Citizens Bank Park (Photo by Mitchell Leff/Getty Images) /
The Phillies family lost one of its longtime members on Easter Sunday, Nancy Giles, 88, the wife of Chairman Emeritus Bill Giles.
The Philadelphia Phillies lost a member of its family on Easter night, Sunday, April 12.
Nancy Kirwin Giles, wife of Phillies Chairman Emeritus Bill Giles, passed away from heart failure at 88.
RELATED | Phillies executive David Montgomery dies after battle with cancer
"Nancy was an incredibly caring and humble woman who had a passion for helping those in need," Phillies President Andy MacPhail says. "Her smile would light up a room and she would always make people around her feel special, regardless if she knew you for years or just met you. On behalf of the entire Phillies organization, we extend our deepest sympathy to the Giles family."
Former Phillies GM Ruben Amaro Jr. tweets, "Mrs. Giles was the sweetest, most gentle people I've ever met. She was warm and caring and genuinely loving in every way. She epitomized what it was like to be in the Phillies Phamily. My heart goes out to Bill and Joe and the rest of the family. God Bless. And be safe."
Former Phillies pitcher Curt Schilling tweets, "I have met very few women in my life as classy and special as Nancy Giles. Our friendship with her and husband Bill has been amazing over the past 28 years. It is with a heavy heart that I pray for Bill to endure after Nancy passed last night."
Nancy and Bill helped establish Phillies Charities, which has donated millions to local non-profits. In 1984, they began the organization's relationship with the Philadelphia Chapter of the ALS Association. Last year, more than $750,000 was raised at the popular annual Phillies Phestival event, benefiting much-needed research, patient care and services for patients battling ALS, or Lou Gehrig's Disease. More than $19 million has been raised total over the 36 years.
Nancy is survived by Bill, her three sons and eight grandchildren, as well as sister, niece and nephew.
Nancy, who resided with Bill in Gladwyne, Pennsylvania, always looked out for those in need and was sweet, loving, caring and never had a bad word to say about anybody. Her obituary continues that among her hobbies included "knitting, gardening, attending the orchestra and being active in her monthly arts and crafts group called Christmas Club for the last 50 years":
"She was a member of the Board of Trustees at The Episcopal Academy (where her sons and several of her grandchildren attended), was active in Pi Phi Sorority throughout her adult life, and was a volunteer with Hospice Care, comforting those in the final stages of life.
Nancy was also a devout Catholic and quite active in her church, St. John Vianney Parish in Gladwyne, PA. Nancy loved everyone and everyone loved her back. As one friend said, 'Nancy was close to sainthood and she'll get a speeding ticket on her way to heaven.'
Born in Ukiah, CA in 1932, she lived in San Francisco and then San Diego where she graduated from Grossmont High School before attending and graduating from San Diego State University. She received a graduate degree in Education from Denison University in Granville, Ohio where she met her future husband Bill. Nancy and Bill settled in the Philadelphia area in 1970 and later resided at Waverly Heights in Gladwyne."
Services for Nancy are postponed to a date to be determined, due to COVID-19.
In lieu of flowers, the Giles Family requests donations be made to the Philadelphia Chapter of the ALS Association, 321 Norristown Road, Suite 260, Ambler, PA 19002.