Phillies: Three Reasonable Expectations for Jean Segura this season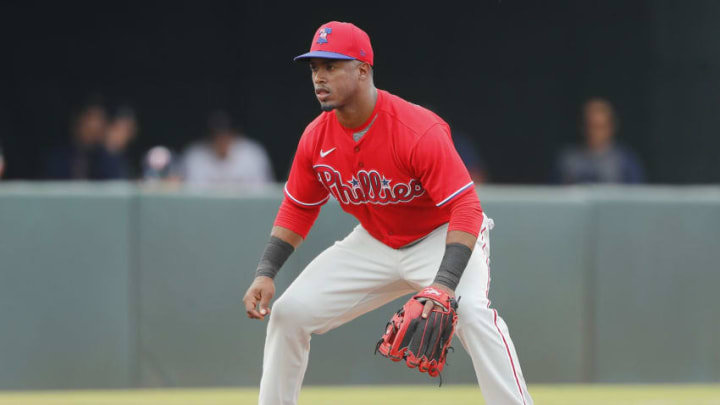 FORT MYERS, FLORIDA - FEBRUARY 26: Jean Segura #2 of the Philadelphia Phillies in action against the Minnesota Twins during a Grapefruit League spring training game at Hammond Stadium on February 26, 2020 in Fort Myers, Florida. (Photo by Michael Reaves/Getty Images) /
PHILADELPHIA, PA – JULY 28: Jean Segura #2 of the Philadelphia Phillies looks on against the Atlanta Braves at Citizens Bank Park on July 28, 2019 in Philadelphia, Pennsylvania. (Photo by Mitchell Leff/Getty Images) /
What can fans expect to see from Jean Segura in his second season with the Phillies?
Jean Segura is part of the Philadelphia Phillies' list of players entering their second season with the team, joining the likes of Bryce Harper, Andrew McCutchen, J.T. Realmuto, Adam Haseley and Jay Bruce.
While Segura's averages were down last season and his position will change with shortstop Didi Gregorius signing with the Phillies, there are still three expectations that should be considered reasonable for this season, whenever it begins.
Segura will be a starter in most games
Since his first full season in the majors in 2013, Segura has consistently been one of the top players on his team in the number of games played.
One of his lower ranks actually came last year, where he played in the fifth-most games among Phillies players, with 144 games.
Segura has played in 142 or more games each season since 2013, except for a 2017 season limited by injury. He averages 143 games a season since his first full year.
This year, Segura is expected to start a large number of his games at third base, despite no prior experience at that position (more on that later).
Even with third baseman prospect Alec Bohm getting closer to the majors, Segura's track record and statistical comparison to the other infielders suggests he will be a starter throughout the season, however many games there will be.
Segura has a 162-game average 12 HR, 58 RBI, 28 SB and .286/.326/.406 slash line.
Most of his appearances came at shortstop, but he also has experience at second base.
For comparison, Gregorius has a 162-game average 21 HR, 79 RBI, six SB and .264/.313/.429 slash line. Scott Kingery, expected to spend most of his time at second base, has a 162-game average 16 HR, 53 RBI, 15 SB and .242/.291/.407 slash line.
While the numbers show that Gregorius is more productive and Kingery is near equal in the home run and RBI categories, Segura still has the leg up in averages.
It's important to note that the home run and RBI averages come from a smaller sample size for Gregorius and Kingery, with 851 and 273 career games respectively compared to Segura's 1,045 career games.
The role of each player also depends on their spot in the batting order. Segura batted first or second in 68.9 percent of his career games, compared to 5.76 percent for Gregorius and 15.02 percent for Kingery.
The further along in the batting order a player is, the more likely they are to have more opportunities with runners in scoring position. As one of the first two hitters in the order, Segura would be more likely to try to reach base for the next hitter, as his strong batting average suggests.
It's reasonable to believe the Phillies will keep Segura in the starting lineup throughout the season, regardless of what position he plays.