Phillies: Opening Day likely delayed until at least May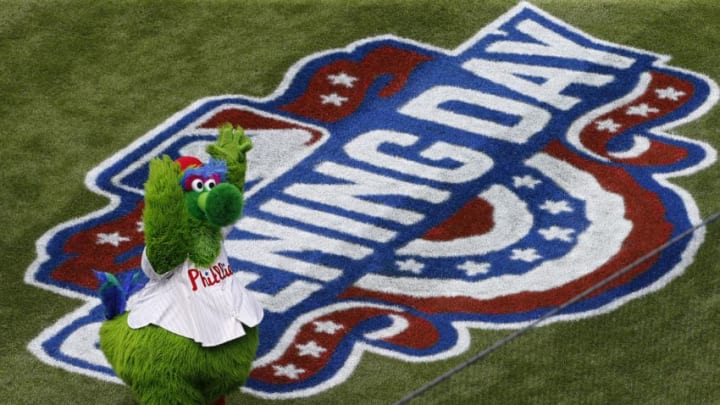 PHILADELPHIA, PENNSYLVANIA - APRIL 11: The Phillie Phanatic in action during opening day ceremonies before the start of an MLB game against the San Diego Padres and Philadelphia Phillies at Citizens Bank Park on April 11, 2016 in Philadelphia, Pennsylvania. (Photo by Rich Schultz/Getty Images) /
Opening Day for the Phillies was originally scheduled to take place in less than two weeks; now, we might have to wait months for regular season action.
Just a few weeks ago, the biggest concern among Philadelphia Phillies fans was that their beloved mascot, the Phillie Phanatic, had "evolved."
Now, there is a much bigger and important issue: the COVID-19 pandemic, which Major League Baseball announced last week has halted spring training action and delayed Opening Day by at least two weeks, from March 26 to April 9, the earliest.
Yet, expect Opening Day to actually occur much later than that.
RELATED | Phillies: COVID-19 Delays Season as MLB Suspends Operations
With the unprecedented COVID-19 pandemic means there is no precedence to base any timeframe for a delay. It is not known when its impact will go away, or even lessen, thus restrictions could very well continue past the initial two-week delay period that MLB recently enacted.
In a recent article, The Athletic's Ken Rosenthal writes that one day after MLB commissioner Rob Manfred announced his decision to delay Opening Day, he met with MLBPA executive director Tony Clark and other top officials in Arizona. Among topics discussed included the timetable for the coming season. And, according to Rosenthal, "industry sources believe it is unlikely the season will begin before May."
Phillies general manager Matt Klentak recently told NBC Sports Philadelphia's Jim Salisbury that the current challenge is that MLB has a "moving target" as to when action just might resume"
""The way that we typically proceed is we work backward from a target date. So, if March 26 was the original target day, we work backward knowing pitchers need to throw the appropriate number of innings and hitters need the appropriate number of at-bats to be ready. … The best advice we can give players is stay in general baseball shape but remain flexible because we don't know when we might resume.""
Baseball is different than the NBA in that players typically need most of the month-long spring training to get ready for the 162-game schedule. Now, it is not even known if the 2020 MLB season will have 162 games; will they add games onto the back-end of the schedule, try to fit some in during the All-Star break?
Perhaps, when action resumes, the Phillies will have exhibition games at Citizens Bank Park, or perhaps the Grapefruit League will resume in Clearwater.
RELATED | Phillies have an opportunity to get healthy during the break
"There has been a lot of discussion about the possibilities," Klentak continued in conversation with Salisbury. "A lot of people are asking that question. Some who have been in the industry for a long time have cited how when baseball returned after the work stoppage in '95, there was an abbreviated spring training, but there's been no formal guidance from the league nor is it fair for me to speculate about that."
Had COVID-19 never existed, the Phillies would be gearing up for their Opening Day in less than two weeks. Now, just when Game 1 of the 2020 season under new manager Joe Girardi will take place is far from certain. Expect Opening Day to occur at least in early May, if not later, however.