The Bryce Harper effect: What the Phillies outfield could look like in 2019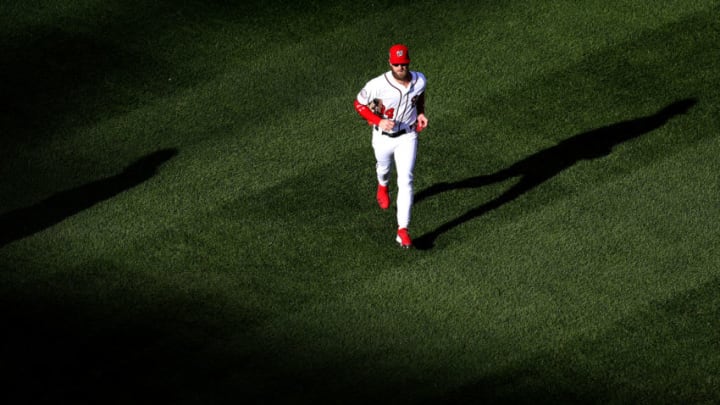 WASHINGTON, DC - SEPTEMBER 26: Bryce Harper #34 of the Washington Nationals jogs off the field during the end of the third inning against the Miami Marlins at Nationals Park on September 26, 2018 in Washington, DC. (Photo by Rob Carr/Getty Images) /
How does the Phillies outfield shape up if Bryce Harper does sign?
Bob Nightengale's report for USA Today saying that Bryce Harper appears to be headed to the Phillies this offseason has sent Phillies fans wild.
The idea of adding a 26-year-old superstar is enticing for any fan, and the idea of snatching him from the Washington Nationals makes it even better.
If Harper does in fact join the Phillies this offseason, where does he play, and who gets bumped out?
Harper has played 600 games in right field, 194 in left field, and 184 in center field for the Nationals. He's athletic enough to play across the outfield, and there's not a ton of field to cover at Citizens Bank Park.
Option 1: Rhys Hoskins, Odubel Herrera, Bryce Harper
This option feels like the most likely option for the Phillies.
If Harper is to be the Phillies everyday right fielder, that means Nick Williams, once a top prospect, is out of the job.
Williams came off the bench behind Aaron Altherr to start the 2018 season and played well in that role. The 25-year-old Williams was vocally unhappy coming off the bench, and eventually replaced the struggling Altherr.
If Williams does not have a future as a starter in Philadelphia he could be an interesting trade piece for a starting pitcher such as James Paxton.
Option 2: Nick Williams, Odubel Herrera, Bryce Harper
In this scenario the Phillies move Rhys Hoskins back to first base and find a new home for Carlos Santana. That new home could be as close as third base or as far as the nearest team that wants him.
Minnesota is a team to watch for regarding a hypothetical Santana trade with Joe Mauer potentially retiring.
Option 3: Rhys Hoskins, Bryce Harper, Nick Williams
Odubel Herrera has become a great mystery, and many fans are ready for his chapter in Phillies history to end. The dynamic yet sometimes bumbling Herrera was leading the league in hitting to start the year, but he cooled off dramatically. Brain-farts in the field and on the bases won't help a team hoping to contend in 2019 either.
Some of those names can be interchanged with the likes of Roman Quinn, who impressed many in the organization. Could the Phillies move Williams and Santana in order to start Quinn? Should Quinn fail to keep the starting job, prospect Adam Haseley is a candidate to join the big leagues.
A lot can change for the Phillies, but if the reports regarding Harper are true, it is likely for the best.