Phillies announce 2008 10th anniversary participants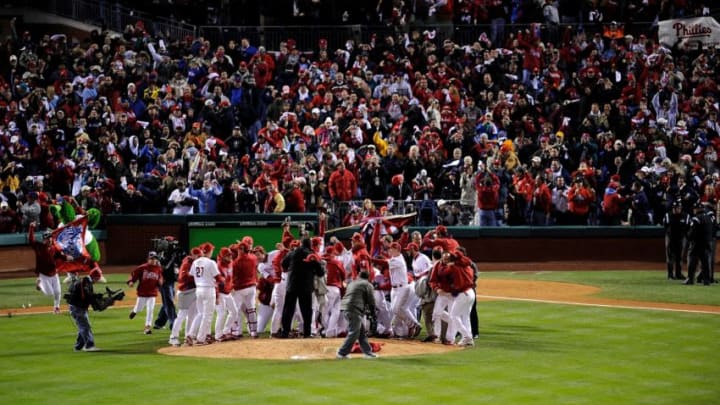 PHILADELPHIA - OCTOBER 29: The Philadelphia Phillies celebrate with their fans after they won 4-3 against the Tampa Bay Rays during the continuation of game five of the 2008 MLB World Series on October 29, 2008 at Citizens Bank Park in Philadelphia, Pennsylvania. (Photo by Jeff Zelevansky/Getty Images) /
Who will be on hand as the Phillies remember the 2008 World Series
Following a six game road trip the Phillies will return for Alumni Weekend from August 3-5 when they will induct the late Roy Halladay and former general manager Pat Gillick onto the Wall of Fame.
Halladay tragically passed away in a single-passenger plane crash off the coast of Florida during the offseason. He'll be the first posthumous inductee to the Wall of Fame since Harry Kalas in 2009.
Gillick was elected to the Baseball Hall of Fame in 2011 as only the fourth executive to ever reach Cooperstown.
Shane Victorino was also be honored with a retirement ceremony on Friday evening.
On Sunday, August 5, more than two dozen former players and coaches from the 2008 World Series team will be in attendance for a pregame ceremony commemorating the team's first World Series in 28 years.
Here are the former players and coaches scheduled to appear according to the Phillies website.
Players
Philadelphia Phillies /
Philadelphia Phillies
Joe Blanton, Pitcher (2008-12)
Eric Bruntlett, Infielder (2008-09)
Pat Burrell, Outfielder (2000-08)
Clay Condrey, Pitcher (2006-09)
Greg Dobbs, Third Baseman (2007-10)
Chad Durbin, Pitcher (2008-10)
Scott Eyre, Pitcher (2008-09)
Pedro Feliz, Third Baseman (2008-09)
Ryan Howard, First Baseman (2004-16)
Geoff Jenkins, Outfielder (2008)
Kyle Kendrick, Pitcher (2007-14)
Brad Lidge, Pitcher (2008-11)
Jamie Moyer, Pitcher (2006-10)
Brett Myers, Pitcher (2002-09)
Jimmy Rollins, Shortstop (2000-14)
J.C. Romero, Pitcher (2007-11)
Carlos Ruiz, Catcher (2006-16)
Shane Victorino, Outfielder (2005-12)
Jayson Werth, Outfielder (2007-10)
Coaches/Management
Mick Billmeyer, Coach (2004-13)
Roly deArmas, Bullpen Coach (2008)
Rich Dubee, Pitching Coach (2005-13)
Pat Gillick, General Manager (2006-08), President (2014-15)
Charlie Manuel, Manager (2005-13)
Milt Thompson, Hitting Coach (2004-10), Outfielder (1986-88), (1993-94)
Notable Players Unable to Attend
Chase Utley
J.A. Happ
Cole Hamels
Ryan Madson
Chris Coste
Matt Stairs
Tom Gordon
In addition, there will be 11 members of the Wall of Fame, not including Manuel and Burrell, participating in the Sunday ceremony. Those former players include Mike Schmidt, John Kruk, Mike Lieberthal, and Steve Carlton.