MLB Draft: How to watch the Phillies pick third overall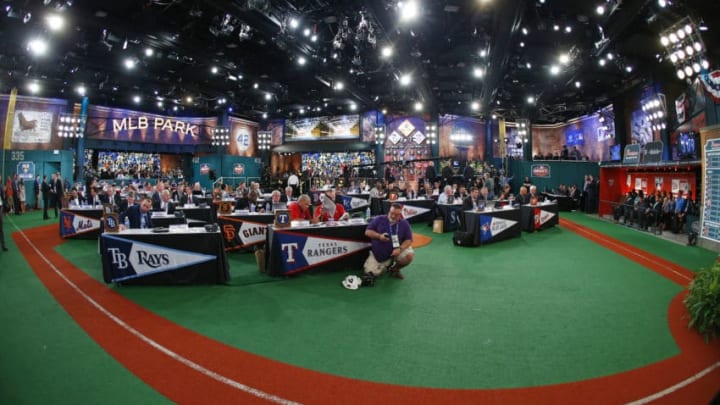 SECAUCUS, NJ - JUNE 5: Representatives from all 30 Major League Baseball teams fill Studio 42 during the MLB First-Year Player Draft at the MLB Network Studio on June 5, 2014 in Secacucus, New Jersey. (Photo by Rich Schultz/Getty Images) /
The next Phillies superstar could be found tonight in the MLB Draft
Holding the third overall pick in the 2018 MLB Amateur Draft the Philadelphia Phillies have the ability to take the next step in their franchise's rebuild. Having forfeited their second and third-round draft picks for signing free agents Carlos Santana and Jake Arrieta, a lot will ride on the player selected Monday night.
Here's how to follow the MLB Draft and whoever the Phillies select:
Date: June 4
Time: 7 p.m. EST
Television: MLB Network
Online: MLB.com
A majority of mock drafts have the Phillies selecting Wichita State third baseman Alec Bohm, one of the better power hitters in the draft. Oregon State infielder Nick Madrigal and Florida pitcher Brady Singer are also potential options for general manager Matt Klentak and scouting director Johnny Almaraz.
The Detroit Tigers and San Francisco Giants own the top two picks with Casey Mize, a right-handed pitcher from Auburn, and Georgia Tech catcher Joey Bart widely projected to be selected with those two picks.
Philadelphia will likely take the best player available, whether that be a position player or pitcher. Klentak has picked three position players since taking over as the general manager with Cornelious Randolph, Mickey Monaik, and Adam Haseley.
Randolph and Moniak were each high school prospects while Haseley came out of Virginia, and all three have played outfield since being drafted.
Two Phillies legends will represent the team at the MLB Draft; Larry Bowa and Mickey Morandini. Both were members of the coaching staff last year but were replaced when Gabe Kapler was hired.