Phillies: 5 trades that won the 2008 World Series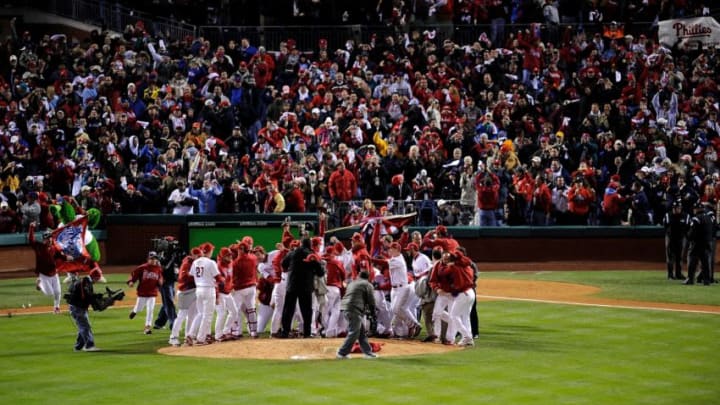 PHILADELPHIA - OCTOBER 29: The Philadelphia Phillies celebrate with their fans after they won 4-3 against the Tampa Bay Rays during the continuation of game five of the 2008 MLB World Series on October 29, 2008 at Citizens Bank Park in Philadelphia, Pennsylvania. (Photo by Jeff Zelevansky/Getty Images) /
PHILADELPHIA – OCTOBER 29: The Philadelphia Phillies celebrate with their fans after they won 4-3 against the Tampa Bay Rays during the continuation of game five of the 2008 MLB World Series on October 29, 2008 at Citizens Bank Park in Philadelphia, Pennsylvania. (Photo by Jeff Zelevansky/Getty Images) /
Ten years after the 2008 Phillies World Series title we look back at what got them there
Has it really been a decade since Brad Lidge threw the slider that left Eric Hinske spinning in the dirt and brought a World Series to the Phillies? For many it feels like yesterday, but the reality is that the entire cast from that team is gone; new roster, coaches, management, and even ownership to an extent.
Perhaps the most unsung hero of the 2008 Phillies championship was Hall of Fame general manager Pat Gillick, who took over for Ed Wade after the 2005 season. Both men made outstanding moves through the draft and trade market to get the city it's first championship in nearly three decades. Wade drafted the core, and Gillick added the final touches that made this a championship club.
Looking back at one of the greatest teams in franchise history, we rank the five trades that got the Phillies a parade down Broad. Some of the moves were direct additions made at the deadline, while others were subtractions that led to the core's arrival.