Phillies unveil surprising renovations at Citizens Bank Park on Opening Day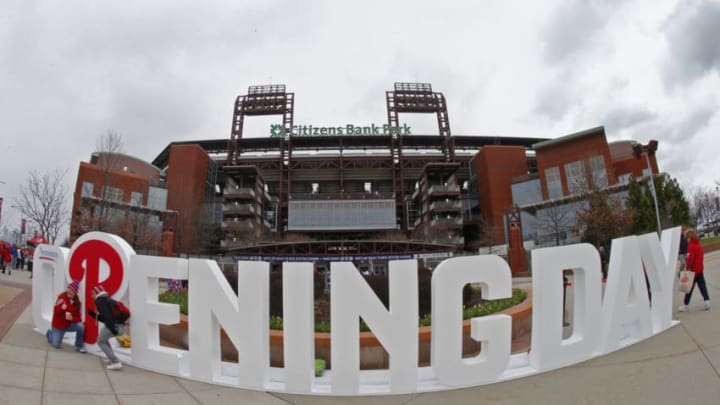 PHILADELPHIA, PA - APRIL 07: Fans pose in front of the park before the Opening Day game between the Washington Nationals and Philadelphia Phillies at Citizens Bank Park on April 7, 2017 in Philadelphia, Pennsylvania. (Photo by Rich Schultz/Getty Images) /
Phillies fans were treated to several surprises at Citizens Bank Park on Opening Day
Aside from the confusing lineup, Phillies fans were greeted with several surprises at Citizens Bank Park as they arrived for Opening Day. While ownership alluded to changes to the 14-year-old stadium, many of them were secret.
Perhaps the biggest change is the relocation of the Toyota Phillies Wall of Fame, which moved from Ashburn Alley to the Left Field Gate entrance. Instead of being tucked away in a confined location next to the bullpens, the Wall of Fame is now wide open with several new additions. Retired numbers are honoured with large markers, championship banners are displayed above, and there is finally room for expansion when a new generation of players are inducted.
The whole thing actually looks beautiful, and it's a great entrance to the ballpark.
You can also see that Bull's BBQ has been moved to the entrance instead of being in the corner of Ashburn Alley beyond centerfield. The entire concourse appears to be much wider with more visuals to take in before and during the game.
Where the Wall of Fame used to stand in centerfield is now replaced with more picnic style seating. Inexplicably, there's still a wall with mounted televisions blocking the view of the game.
The one wall has the ivy on it, but the others appear to be there for no reason.
Many of the seats just under the cover of the concourse were removed and replaced with more picnic style seating and drinking rails. Those same rails were added above the visiting bullpen, which should be fun.
Added along with the kids zone is a miniature CBP wiffleball park, which shouldn't lead to plastic bats being swung at others or angry parents.
Citizens Bank Park is the 8th newest stadium in baseball, but it's still 14 years old and has never hosted an All-Star game. More renovations are expected to make the entire park fan friendly, and more historic additions will be made, including the return of the Veteran's Stadium Liberty Bell.
Next: How to Watch Opening Day
Send us pictures and videos of all the new additions around The Bank on our social media pages so that they can be shared with fans around the world.