Phillies Rank 19th on New MLB Stadium Index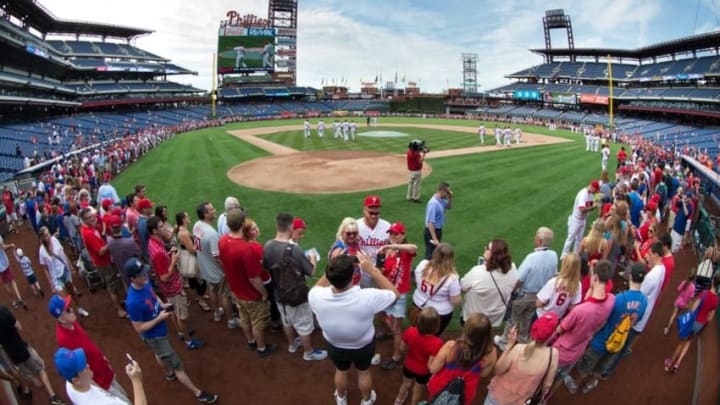 Jul 16, 2016; Philadelphia, PA, USA; Fans line the playing field at Citizens Bank Park for the Philadelphia Phillies picture day with the players prior to game against the New York Mets. Mandatory Credit: Bill Streicher-USA TODAY Sports /
The Philadelphia Phillies have finished ranked in the 19th spot by a new service designed to track the fan experience for overall value.
Whether the team is winning or losing, one of my favorite things in the world is making a trip to a Phillies game at Citizens Bank Park, one of the most beautiful and fan-friendly venues in the game today.
However, one thing that I can usually count on is that I am going to spend some money at our gorgeous South Philly ballpark.
Out in the concessions on Ashburn Alley, in the concourse at one of the concession locations, in the Majestic Clubhouse store, or even in the stands with a purchase from 'Pistachio Girl' or one of her cohorts, part of the experience will involve me burning up my credit card and my cash.
I don't usually mind, since these days my wife and I aren't making more than a few visits each spring and summer. But even though we are in a position to afford it right now, are we getting value for our buck?
A new web service, Couponbox.com, was launched in 2015. According to the site's own figures they "helped over six million Americans save money" in their first year of 2015 alone by offering coupons on a variety of products and services at no cost.
This year the site has released their "MLB Stadium Index" for the first time. The folks at CB examined the cost for two premium tickets, two hot dogs, and two drinks at each of Major League Baseball's 30 ballparks and stadiums.
Related Story: COUPON BOX 2016 MLB STADIUM INDEX
The Phillies finished 19th in the rankings with a total cost for the products coming in at the $232.44 mark. The breakdown is: $96.97 per ticket, $5.88 per drink, and $3.75 per hot dog.
I questioned the folks at Couponbox.com as to how they obtain the figures for their rankings, and received the following as a response attributed to Steve Cuffari of their site:
"To create the ranking, we used a variety of data points, which are not based on regular ticket prices. Instead, we focused on premium tickets. We obtained the average prices from the Team Marketing Report, a website that regularly publishes average MLB prices. Using their data, we created a unique ranking of our own, which you can see if you compare their rankings with ours. They reached their average premium ticket price by averaging the price of tickets with at least one amenity. The average of the published premium ticket prices on MLB.com is currently $98.33, not far off from what we published in July. We consulted the MLB website for game schedules and Wanderu for bus fares.Additionally, the Couponbox.com ranking itself is not based only on premium ticket costs. We created it based on two people (father & son, mother & daughter, couples, two best friends etc.) attending a game. We ranked the stadiums back in July on the average price of two premium tickets (for a unique experience), two hot dogs (the classic baseball food) and two beverages each. The average beverage price includes both beer and soft drinks."
At the Phillies own website, the highest listed single-game ticket price would be the $75 for a seat in the Hall of Fame sections 212-232.
If you wanted to purchase season tickets in the Phillies Diamond Club, the cheapest of those seats goes for $9,415 for the full season of 81 home games. That makes for a price of $116.23 per ticket, per game.
Concession prices on hot dogs and drinks around the ballpark vary wildly. The fact is that Citizens Bank Park features a wide variety of hot dogs, soda options and sizes, and beer varieties, among its numerous other food and beverage choices.
One undisputed fact is that in the now 13-year history of the ballpark, no venue in all of baseball has the variety of food options that Citizens Bank Park concessionaires offer to fans.
Back in the 2007 season as the Phillies were enroute to the first of five consecutive NL East crowns, Citizens Bank Park won the "Best Ballpark Eats" category in the first-ever "Food Network Awards", and the ballpark has won the honors multiple times since.
My own personal favorites include a Campo's cheesesteak or a pulled pork sandwich from Bull's BBQ, both on Ashburn Alley. It's always a struggle for me to choose which I'm going for as pre-game grub.
More from That Balls Outta Here
During the game, my favorite treat at the ballpark has been a hand-dipped lemon water ice at one of the concourse stands, matched up with a soft pretzel. I've been dipping soft pretzels into lemon water ice since I was a little kid, and this treat really takes me back.
Of course there are literally hundreds of other options. There is something for everyone, whether a carnivor like me, or a vegan like my eldest daughter, and everyone will have their own favorites.
For Phillies fans who may be fretting about that 19th place ranking, the fact is that your own pricing experience is likely to vary wildly from that presented by the Couponbox folks.
There are a wide variety of ticket options that will significantly lower that part of the game price. Of course, their price doesn't include any souvenirs or memorabilia, so if the kiddies want a Phanatic dangle hat, or you want a shirsey of your new favorite player, that is gonna up the ante.
Whatever your financial situation, you can probably find a pricing option that is affordable to get your crew down to at least one ballgame a year at Citizens Bank Park. I highly recommend the experience for everyone.