Phillies Win Big on Big Jim Thome Night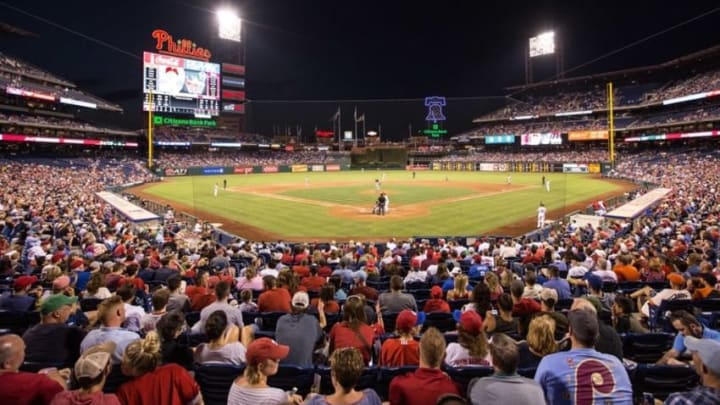 Aug 3, 2016; Philadelphia, PA, USA; General view of gameplay during the fifth inning between the Philadelphia Phillies and the San Francisco Giants at Citizens Bank Park. Mandatory Credit: Bill Streicher-USA TODAY Sports /
VS.
| | | | | | | | | | | |
| --- | --- | --- | --- | --- | --- | --- | --- | --- | --- | --- |
| | 1 | 2 | 3 | 4 | 5 | 6 | 7 | 8 | 9 | R |
| Rockies | 0 | 1 | 1 | 0 | 1 | 0 | 1 | 0 | 2 | 6 |
| Phillies | 1 | 2 | 0 | 0 | 4 | 1 | 1 | 1 | x | 10 |
The Philadelphia Phillies defeated the Colorado Rockies at Citizens Bank Park in the opener of a weekend series at Citizens Bank Park on Friday night.
After a playing 16 of their previous 19 games on the road, the Phillies returned home to South Philly on Friday night, scoring early and often to treat the home fans to a big 10-6 victory on a night where the franchise honored one of its beloved heroes of the past.
It was 'Wall of Fame' induction night, and this year's honoree was Jim Thome, the 2003-05 slugging 1st baseman who is credited with paving the way for the Phillies to go from wannabes to legitimate contenders as they closed Veteran's Stadium and opened Citizens Bank Park just over a decade ago.
The 2016 version of the Phillies harkened back to those great 2000's days of regular offensive explosions, scoring in six of the eight innings in which they came to bat.
Four of the Fightin' Phils registered a multi-hit game, led by a 3-5 night from the man whose emergence pushed Thome out of town, 1st baseman Ryan Howard.
'The Big Piece' turned back the clock himself when he broke up what was a 3-3 game in the bottom of the 5th inning with a grand slam, his 17th home run of the season as Thome, former teammate Bobby Abreu, and former manager Charlie Manuel celebrated together in the stands.
"You want to go out there and try to get a win on a special night like this," Howard said per MLB.com contributors. "Being able to get something to hit and having it land on the other side of the fence — it's the bonus. 
"It's been a while. Felt great," said Howard of his franchise-record 14th career grand slam. "I mean, to be able to do it in that situation in a night like tonight, it was pretty cool."
Cesar Hernandez, Aaron Altherr, and Cameron Rupp all had a pair of hits, with Hernandez also chipping in with a walk, a stolen base, and two runs scored out of the leadoff spot in the lineup.
Odubel Herrera went 1-3, walked twice, stole a base, scored two runs, and knocked in a run to also contribute to the offensive outburst.
"April /
Peter Bourjos returned to the lineup after missing a few weeks on the disabled list. It looked like he never missed a minute, also contributing with a hit and a walk, and by demonstrating his speed on the base paths.
It was also a good night on the mound where it mattered, as rookie Jake Thompson bounced back well after getting shelled in his big league debut his last time out.
Thompson allowed just two hits over five innings on Friday, though he did walk three batters and was charged with three earned runs. He struck out six batters along the way.
One of the hits was a 3rd inning homer by Rockies' center fielder Charlie Blackmon. Blackmon had three home runs on the night and now has 18 on the year in what has become the best season of his six-year MLB career.
Thompson also became the first Phillies pitcher since 1902 to strikeout four batters in one inning when he pulled the feat in the 2nd inning.
Thompson struck out David Dahl to lead it off, but the third strike was a wild pitch, allowing Dahl to reach base. He then struck out three more in the inning.
The Phillies bats punished Rockies' rookie starter Jon Gray, the 3rd overall pick in the 2013 MLB Amateur Draft, getting to the righty for seven runs, six of them earned, on six hits and four walks before he was pulled after 4.1 innings.
With the win, the Phillies moved within seven games of the final NL Wildcard spot, and within 2.5 games of the Rockies in the overall National League standings.
The series continues with a 'Alumni Night' celebration, with the Saturday scheduled game time of 7:05pm likely to begin later due to those festivities.