Phillies Preview: at San Diego Padres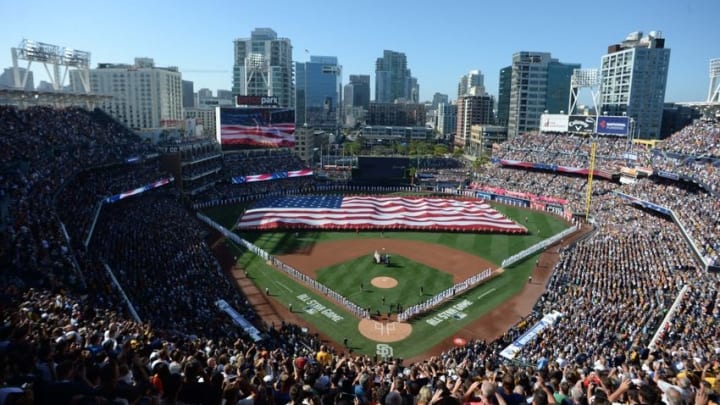 Jul 12, 2016; San Diego, CA, USA; A general view during the playing of the national anthem before the 2016 MLB All Star Game at Petco Park. Mandatory Credit: Jake Roth-USA TODAY Sports /
Jul 12, 2016; San Diego, CA, USA; A general view during the playing of the national anthem before the 2016 MLB All Star Game at Petco Park. Mandatory Credit: Jake Roth-USA TODAY Sports /
The Philadelphia Phillies head out west for six games in SoCal, starting with three at Petco Park against the San Diego Padres.
The Phillies returned home from a long road trip to play a quick three game series with the NL West-leading San Francisco Giants at Citizens Bank Park to begin this week.
The Fightin' Phils fought their way to victories in two of those three games, and now head right back out on the road, flying cross-country to take on two of the Giants NL West rivals, the San Diego Padres and Los Angeles Dodgers, each in a three game series.
That trip begins on Friday night at Petco Park in San Diego, home of last month's MLB All-Star Game and festivities.
The host Padres are at 47-61 on the year, sitting in 4th place in their division, trailing the Giants by 15 games. They are 10 games of the pace for the 2nd NL Wildcard spot.
The Phils are a couple of games better in the standings at 50-60, but also sit in 4th place in their own NL East Division. The club trails the Washington Nationals by a widening gap of 15 games, but is still within shouting distance of the NL Wildcard at eight games back.
With a pair of big trade deadline deals that sent starting outfielders Melvin Upton and Matt Kemp to Toronto and Atlanta respectively, the Padres are really down to just one significant offensive threat, National League All-Star and Home Run Derby participant Wil Myers.
The 25-year old 1st baseman is hitting for a .275/.353/.488 slash line with 20 homers, 66 RBI, 70 runs scored, 44 extra-base hits, and 21 stolen bases. He is a legitimate offensive force.
Switch-hitting 3rd baseman Yangervis Solarte is a 28-year old slashing .294/.356/.508 with 11 homers and 45 in just 261 plate appearances caused by a DL stint from which he just returned.
25-year old rookie Travis Jankowski is now getting regular at-bats, and speed is his calling card. The Padres' top pick at 44th overall in the 2012 MLB Amateur Draft has 32 runs scored and 23 steals in just 198 plate appearances.
When manager Andy Green goes to his bullpen he is most likely to call upon 25-year old righty Brandon Maurer to nail down any Save opportunities, as former closer and NL All-Star Fernando Rodney was dealt away to the Miami Marlins prior to the trade deadline in yet another deal.
Righties Carlos Villanueva, Jose Dominguez, and Luis Perdomo and lefties Ryan Buchter, Brad Hand, and Matt Thornton make up a largely unimpressive grouping. The Friars' bullpen is not, shall we say, a team strength.
Though San Diego sits just a couple of games in back of the Phillies in the overall National League standings, that was the Pads of Kemp-Upton-Rodney. The Phils are a far more talented all-around team that what is left now, and they need to take another series victory here, if not a sweep.
Next: PHILLIES - PADRES PITCHING MATCHUPS