Phillies Series Preview: at Colorado Rockies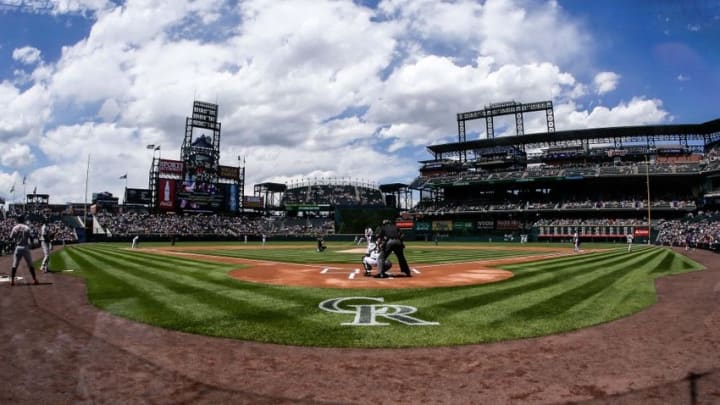 May 28, 2016; Denver, CO, USA; A general view of Coors Field during the first inning of the game between the Colorado Rockies and the San Francisco Giants. Mandatory Credit: Isaiah J. Downing-USA TODAY Sports /
May 28, 2016; Denver, CO, USA; A general view of Coors Field during the first inning of the game between the Colorado Rockies and the San Francisco Giants. Mandatory Credit: Isaiah J. Downing-USA TODAY Sports /
The Philadelphia Phillies head out to Denver for a weekend series with the host Colorado Rockies at Coors Field that will lead into the MLB All-Star break.
The Phillies are back on a roll, winners of 10 of their last 13 games, as they head out to Coors Field and a four-game long weekend in Denver against the host Colorado Rockies.
The Rockies, meanwhile, are attempting to right their ship after a recent slide that saw them lose six straight to drop the club below the .500 mark on the season. They currently stand at 38-45 (pending a Wednesday late game in San Francisco.)
The Phils are flying west after taking five of six on a homestand against the defending world champion Kansas City Royals and the division rival Atlanta Braves, while the Rox come home from a losing visit to California against their NL West Division rival Dodgers and Giants.
Before scoring seven runs to break up that recent six game losing skid with a 7-3 win over San Francisco on Tuesday, the big problem of late for Colorado had been scoring runs. The Rockies crossed the plate a total of just three times in their previous four games.
This is a Colorado team capable of huge offensive outbursts, however. They have scored in double digits 10 times this year, including 17 runs twice. They have recorded at least six runs 35 times over 83 games (42%), and that is not all in the rarefied Mile High air of Denver.
Leading the Rockies offensive attack are a pair of NL All-Stars, 3rd baseman Nolan Arenado and right fielder Carlos Gonzalez.
The 25-year old Arenado is hitting for a .290/.365/.579 slash line with 23 home runs, 69 RBI, 59 runs scored, all team highs.
CarGo leads the club with an even 100 hits, and has produced a .315/.364/.555 slash line with 18 homers, 51 RBI, and 54 runs scored.
23-year old rookie shortstop Trevor Story has mashed 19 homers with 50 RBI, but much of his production came in bunches early in the season, with 10 of his longballs coming back in April.
Center fielder Charlie Blackmon is an all-around threat with a dozen homers, 43 RBI, 48 runs, and eight steals while producing a .306/.373/.500 slash line.
2nd baseman D.J. LeMahieu is enjoying his second straight strong season, batting for a .328 average and recording a .395 on-base percentage. He is second on the club with seven stolen bases.
Walt Weiss is a popular ex-Rockies player in his fourth season at the helm. He has yet to enjoy a winning campaign, which is causing some of the original popularity to diminish. Overall his career record as skipper is 246-323, and the 74-88 of his first season in 2013 was the team's best in his tenure.
When going to the bullpen, Weiss calls upon left-hander Jake McGee to close things out. The longtime Tampa Bay Rays reliever came to Colorado in a four-player trade back in January with outfielder Corey Dickerson heading south.
McGee has a 4.88 ERA and has allowed 29 hits over 24 innings with a 19/7 K:BB ratio as he learns first-hand what everyone in the industry knows: it's rough being a pitcher when your home ballpark is a mile in the air.
Related Story: CarGo, Arenado to Rep Rockies at All-Star Game
One reliever who is thriving despite the conditions is another southpaw, Boone Logan, who has just a 3.27 ERA while allowing just 14 hits over 22 innings with a 28/8 K:BB ratio. Those are nearly miraculous numbers for a Colorado hurler.
The righties are veterans Jason Motte and Chad Qualls, youngsters Carlos Estevez and Jordan Lyles, and 28-year old German Gonzalez. They have produced mixed results, with Motte being most effective.
This series will be an excellent test for the rejuvenated Fightin' Phils. The atmosphere in Colorado is highly conducive to a continuation of their recent powerful offensive production.
However, it will really be the ability of the young starting pitchers to deal with that mile-high altitude and the effect that it has on their pitches that should tell the story.
Winning for a pitcher at Coors Field is about staying mentally tough, keeping your team in the game as best you can, and basically surviving.
Next: PHILLIES - ROCKIES PITCHING MATCHUPS