Phillies Series Preview: at Arizona Diamondbacks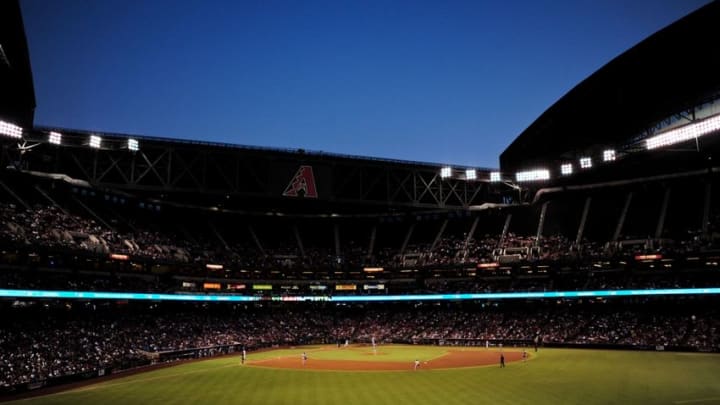 Jun 13, 2016; Phoenix, AZ, USA; General view of the game between the Arizona Diamondbacks and the Los Angeles Dodgers at Chase Field. Mandatory Credit: Matt Kartozian-USA TODAY Sports /
Jun 13, 2016; Phoenix, AZ, USA; General view of the game between the Arizona Diamondbacks and the Los Angeles Dodgers at Chase Field. Mandatory Credit: Matt Kartozian-USA TODAY Sports /
The Philadelphia Phillies wrap up a long road trip with a visit to Chase Field in Phoenix to take on the host Arizona Diamondbacks.
The Arizona Diamondbacks came to Citizens Bank Park a week and a half ago trailing the host Phillies in the overall National League standings.
The Dbacks swept the Phils in that series to begin a five game winning streak and a sequence in which they won seven of eight games. That streak ended when Arizona lost their last two games over the weekend to the Colorado Rockies.
Arizona is now 36-42 and in 4th place in the NL West, 13.5 games back in those standings. The Phillies now sit in 4th place in the NL East at 32-45, and are now 9.5 games out of first.
The Diamondbacks have a handful of legitimate offensive threats in their lineup, starting with one of the best hitters in the game in 1st baseman Paul Goldschmidt.
Goldschmidt was the 2015 NL MVP runner-up, and this year is hitting for a .301/.436/.522 slash line with 14 homers, 51 RBI, 43 runs scored, and 10 stolen bases.
2nd baseman Jean Segura came over from the Milwaukee Brewers in a trade this past January. Segura is hitting for a .311/.361/.439 slash line with team highs in runs scored with 46 and stolen bases with 13 of them.
Jake Lamb is the club's 3rd baseman and is hitting for a .285/.364/.570 slash line with a team-high 15 homers, and is tied for the lead with 51 RBI.
Rookie Brandon Drury has stepped up to provide 11 doubles and eight home runs while playing both right field and 3rd base at times.
Left fielder Yasmany Tomas, a Cuban import who was seriously considered by the Phillies this past off-season before they passed on him, has a dozen home runs.
When manager Chip Hale goes to his bullpen, he calls upon 36-year old veteran Brad Ziegler at the end of games. Ziegler has 16 Saves, but has certainly been anything but dominant. The righty has allowed 33 hits over 33.1 innings with a 22/12 K:BB ratio.
The rest of the pen is filled with right-handers as well. Former starters Daniel Hudson and Randall Delgado, veteran Tyler Clippard, and young Jake Barrett make up that group. When the club needs a lefty, it usually turns to 36-year old Andrew Chafin.
As a group, the Dbacks bullpen has a propensity for issuing free passes. So if the Phillies can exercise some patience in the late innings, it may help them mount a comeback or build on a lead to nail down a game or two.
In this series, the Phillies hitters will face a trio of interesting Arizona starting pitchers: a veteran perennial Cy Young contender, and a 23-year old righty and 24-year old lefty, each of whom figures prominently in the Dbacks' future.
This series also marks the end of a three-city, nine-game road trip, the second of three lengthy road sojourns for the Fightin' Phils. The final one will come at the end of July.
Next: PHILLIES at DIAMONDBACKS: PITCHING MATCHUPS